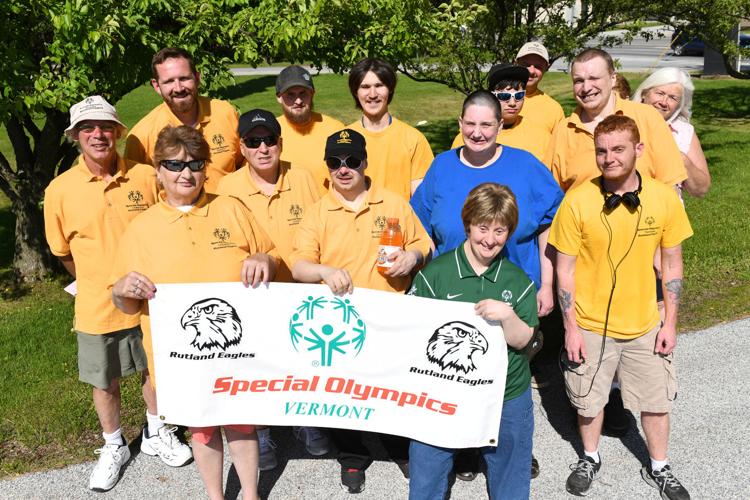 About 30 Rutland-area athletes will compete in basketball and bocce at the Vermont Special Olympics Summer Games in Burlington this weekend.
Michelle LaBerge, 41, of Kingdom Avenue in Rutland City, said she plans to use her defensive skills to help her team, the Rutland Raptors, do well at the games.
We have two basketball teams," said Mary Mitchell, coordinator for the Rutland Delegation to the Vermont Special Olympics. "The Rutland Eagles are our Division I team and the Rutland Raptors are in Division III this year. They're divided according to our assessment from our weeks of practice."
LaBerge said she's been playing basketball for the past three years, and competing in the Special Olympics for nearly five. She also plays soccer.
"I like to chase people down on defense and try to steal the ball," she said. "I'm not a very good shooter, but I like to play defense. That's my favorite part."
She's taken on a leadership role for the basketball team as well.
"We separate according to our abilities," LaBerge said. "I like to help my friends out if they need help."
She said the Rutland teams have good coaches and thinks they'll do well in the games.
"With a friend's help, you can really get far. With a good coach like Ted (Gillen) you get far, too."
Gillen is the basketball coach for the Rutland Delegation. He coaches soccer as well.
"Whatever we do, we do, our team motto is, 'Let me win, but if I can't win let me be brave in the attempt,' so just go out there and have fun, you hope to win but if you don't at least you're having fun and meeting new people," LaBerge said. The phrase is also the motto of the Special Olympics.
LaBerge said she plans to enjoy time with her friends, make new ones and enjoy Burlington. She said there's a dance being held that she plans to attend.
"I'll go to the dance and dance with Billy Pierce, my best friend. He's my best friend — and Scott Crawford," said LaBerge.
Crawford is another of the delegation's coaches. He was named Coach of the Year in 2017 by the Special Olympics. LaBerge said Crawford has improved her life a great deal.
Most volunteers with Special Olympics wear multiple hats, said Mitchell. It's not unusual for one person to coach multiple sports.
"We also have a bocce team," she said. "We have three double-teams, and we have a four-person team who will also be competing this weekend."
Bocce, she said, is an old game with its origins in Italy. "It's very much like bowling, only you play with smaller, heavy balls. The goal is to get as close to a smaller ball, called a pallina. The players roll a ball, in turn according to who's closest to the pallina, and it just keeps going to that. The goal is to get as close to the pallina as possible and get as many points as you can."
She said the bocce teams practice at the Italian-American Club on Grove Street, while the basketball teams improve their skills at Vermont Police Academy in Pittsford.
"We all work on a volunteer basis and rely on our community for support and donations," she said. "The reason we do what we do is the athletes, it's the hardest job we don't have a monetary compensation for, but it's the one we get the most reward."
Athletes also find it rewarding. LaBerge said learning more about Special Olympics is as simple as asking.
"If you don't know about Special Olympics, just ask somebody," she said. "You can really get a lot of help in sports and you can really have fun. I know when I was in school I wasn't allowed to do sports because I wasn't good enough, but in Special Olympics you don't have to be good enough, all you have to do is try."
keith.whitcomb
@rutlandherald.com