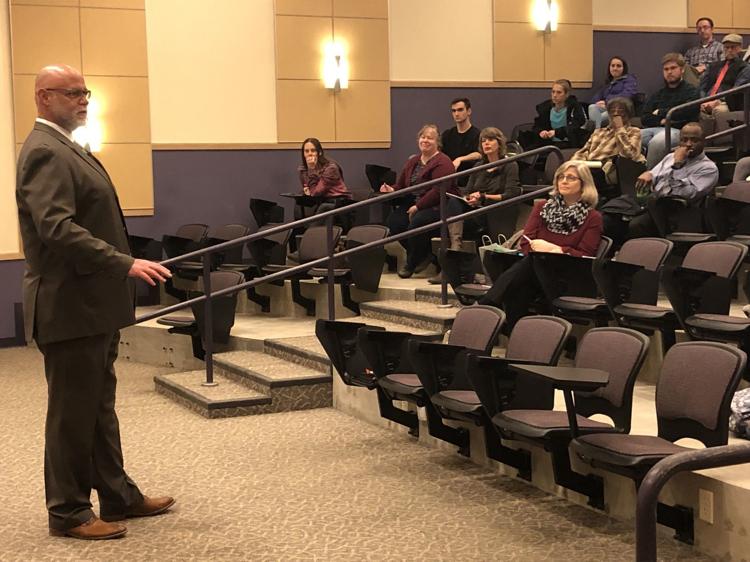 CASTLETON — As part of Castleton University's celebration of Black History Month, Rutland City Public Schools Superintendent Adam Taylor spoke to students, staff and faculty in Jeffords Auditorium on Thursday about how to disrupt inequities in education, as part of a series called "Race Matters."
"Every day is black history day," Taylor began. "If you get to know your history, you will find that we all come out of the Sahara Desert, and we're all African when you get down to it."
Taylor told his story of growing up in an "only parent" household, where he found he was black only because his birth certificate said "Negro," which is how he identifies today.
He was raised in the projects of West Oakland, California, by his mother, and began his now 27-year career in education as a drop-out prevention specialist before becoming an elementary school teacher, assistant principal and then a principal in the original kill zone of East Oakland.
"There were 39 homicides in one year in a nine-block radius," Taylor said. "There were bodies pulled off my campus from time to time."
Taylor related being the leader of a school to being a father, and learned through his years of teaching that power should be used not to serve oneself, but to serve others.
"He in the greatest power should be in the greatest service to others," Taylor said
Coming from an area where 122 languages are spoken, Taylor said Vermont was a very foreign place, without the multicultural landscape he was so used to.
"I'm mad that Rutland had such an issue inviting the Syrians to relocate here," Taylor said. "Because of the fact that they are great people and would have contributed greatly to this community. ... Vermont is very white."
In addition to race, Taylor said it was equally important to consider the intersections of lifestyles, gender identity, cultures and needs of every person — especially when in charge of a classroom full of young adults.
"You have to consider that when you consider your students ... that it's not just about race. Race matters ... black lives matter, but all lives matter."When he was wounded by a gunshot at age 17, rather than develop a deep hatred for others, Taylor said he began to reconsider life as precious, and acceptance of other people as a remedy for adversity.
That also meant people of privilege had a responsibility to start the conversation about race and keep it going.
"White silence is more dangerous to people of color than racism," Taylor warned. "I don't know whose team you're on. I don't know which side of the fence you sit on."
Rutland City Schools is the fifth most impoverished district in Vermont, where 72 percent of the kids K-8 receive free or reduced lunch. With poverty comes trauma, which requires constant updating and training for teachers.
But at the heart of every problem, solutions to racial adversity in schools could be found only when conversations are started and efforts to connect are made, even if that means making oneself vulnerable, he said.
"You have to be willing to have your feelings hurt," Taylor said.
Taylor stressed the notion that people can choose whether to be offended, to take responsibility for one's actions and emotions, including racism. He cited the horrors of slavery that he credited with his birth in the United States.
"I'm pretty sure one of my ancestors came over on one of those ships," Taylor said.
Students of color were not minorities, Taylor said, because there was nothing minor about them, and he said human connection happened at a level below the skin. He said being racially aware was rooted in the art of simply being a good person, and it was important for many of the future educators in the audience to remember that when they set foot into their first classrooms.
"Your job is to motivate and inspire kids to be the greatest they can be," Taylor said.
When they did, Taylor said, that's when the real work would begin.
Secluding students to remedy bad behavior only resulted in pushing the student further to the outside, from trusting their teachers, and from success, he said.
"It's different when you walk in that classroom," Taylor said. "You have to figure it out. If you don't cry 70 times in your first year, you're not meant to be a teacher ... that first year is when you really cut your teeth." Teachers needed to know their students, and in order for their students to open up to them and allow their teachers to teach them, a level of trust had to be established, which is far more important than hammering through lessons, he said.
"I'll use an Oakland analogy ... a pimp has to groom, he has to get to know a young lady in order to get her to go out and sell her body to get him money," Taylor said. "It's about building that relationship that then gets her to go out and do something that she would not do ... it's a foul analogy, but it makes sense. It's about building the relationship. Similar to a Catholic priest ... similar to a pedophile ... it's about building those relationships where there's trust, where I will do whatever you ask me to."
As teachers and social workers, Taylor said, they would be tasked with cultivating difficult relationships with parents unwilling to open up to them.
"Social workers? Teachers? Families don't trust us," Taylor said. "They think we're trying to get into their business ... we're trying to help them. We're trying to figure out ways to bridge gaps."
Taylor urged the students to make strong connections with one another and with the parents of their future students, to always encourage dialogue and always strive to teach the whole truth, even if it goes beyond their teaching requirements.
"Make sure your resources are available to your kids," Taylor said. "You are their biggest resource."
katelyn.barcellos
@rutlandherald.com