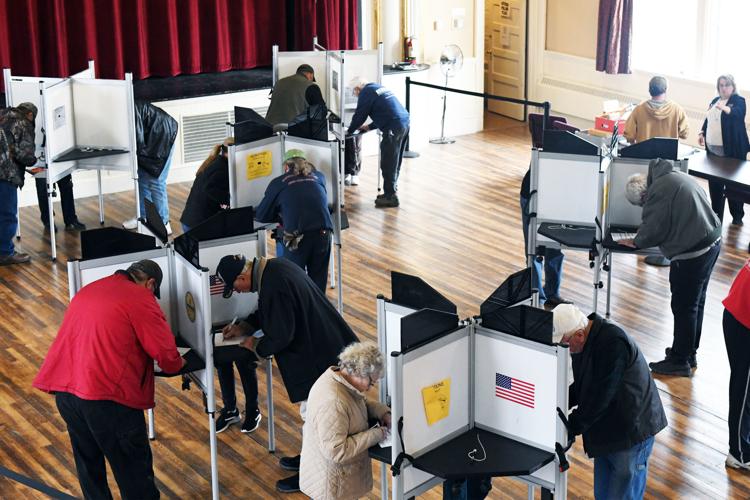 Rutland County voters were chomping at the ballot during Tuesday's midterm elections, and town clerks reported high voter turnouts and long lines.
Wells Town Clerk Nora Sargent said 384 voters had hit the Wells Town Hall by 3:30 p.m., hours before closing.
"We had 112 absentees today," Sargent said later. "Five-hundred and one out of 904 voters! That's a lot for us!"
Secretary of State Jim Condos said though the results remain unofficial, voter attendance appeared high for a midterm election and should be a source of pride for voters in the Green Mountain State.
"Clearly many Vermonters are tuned in, and actively engaged in our democracy ... It's possible that this year a record number of voters cast ballots for a midterm election," he said.
Condos said that though the numbers are still being finalized and will likely change, statewide turnout safely hovered between 55 and 58 percent, with around 276,818 votes unofficially reported in the governor's race out of about 486,752 total registered voters, Condos said.
"Election Day here in VT was a shining example of what healthy democracy looks like," Condos said in a statement Wednesday. "The civil discourse among candidates, high voter turnout and implementation of policies and practices that preserve voter rights and access that we saw yesterday are all reasons we can be proud."
Pittsford saw 60 percent of its voters participate: 1,287 of its 2,299 registered voters showed up to the polls.
"We had quite a bit higher turnout yesterday," said Pittsford Town Clerk Helen McKinlay. "We had a very steady crowd all day."
She said Tuesday's turnout marks a 24 percent increase from the 2014 midterm elections, where 976 showed up.
"I think there's a lot of issues," McKinlay said. "I think there's so much going on right now, between school safety, high taxes and health care, it's got everyone wanting to participate."
Rutland Town saw 63 percent of its registered voters participate, 1,963 total, and Castleton reported 1,537 voters turned out for Tuesday's midterm polling after 523 showed for the primaries in August.
"It was high for us," said Castleton Town Clerk Nedra Bowen.
Both Fair Haven and Poultney saw 54 percent of their registered voters take part, when both saw only 42 percent participation for the last midterm elections.
"We've certainly been busy," said Fair Haven Town Clerk Suzanne Ducharme, who said they reached 600 voters before 4 p.m.
West Rutland saw half of its 847 voters at the polls, up from 39 percent during the 2014 midterms, while Proctor saw 58 percent of its voters — 692 people — come out.
"It was probably all the focus on the national level," said Killington Town Clerk Lucrecia Wonsor, whose town saw 58 percent participation — 12 percent higher than in 2014. "With everything that's going on in general, I think people had a high motivation to vote this time."
Rutland City's four wards saw an overall 54 percent turnout on Election Day, with residents overflowing polling stations that quickly became standing-room only, City Clerk Henry Heck said.
Ward 1 at the Godnick Center on Deer Street saw 61 percent turnout with 1,897 voters, while Ward 2 at Christ the King School saw 1,446 voters, 53 percent of its total registered voter population.
Ward 3 at the American Legion on Washington Street saw 45 percent turnout with 978 voters, while Ward 4 at the Calvary Bible Church turned out 1,358, 53 percent of their voters.
"Its the biggest midterm I've done since I've been here," Heck said. "My day started at 5 a.m. It was a 19-hour day for me, but those are election days."
Heck said he expected a bigger turnout than the 5,679 voters, attributing the lower afternoon turnout to the wind and rain.
"From 7 a.m. on, there were just lines and lines out the door, consistent throughout most of the day," Heck said. "This was a very political election — very R and very D. People voted with their party.
"There's unrest," Heck said. "It's not as commonplace friendly: before, you could go out and get in a fight, dust each other off. Now, it's more hatred."
In the years since he began as clerk for Rutland City in 2002, Heck said the biggest turnout he'd seen was in 2008 when 7,800 turned out to vote, with a close 7,000 returning to the polls four years later.
"I think more people responded to this election," Heck said. "It was a politically-driven election. More people across the country are getting out and voicing how they think our government should be run ... I think that in 2020, if Trump runs, it will be like the year when Obama ran. I think people will think 'this is our time.'"
katelyn.barcellos
@rutlandherald.com