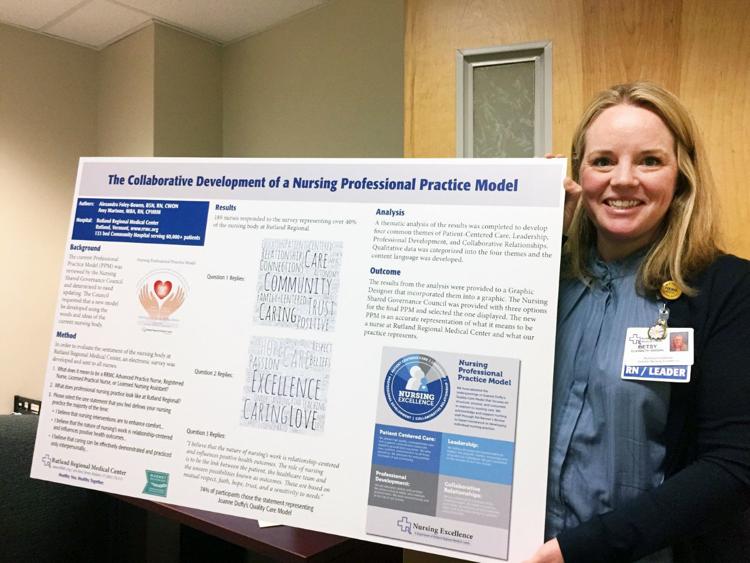 About 150 nurses will be in Rutland County at the Killington Grand for the first Rutland Community Nursing Symposium, organized by Rutland Regional Medical Center.
Betsy Hassan, a nurse and director of nursing excellence for the hospital, said the focus of the symposium will be innovation and advancing practice in the Rutland area but also showcasing what nurses do for their patients.
The symposium, timed to coincide with National Nurses Week starting May 6, is the first organized by Rutland Regional Medical Center, and hospital staff believe it's the first in Vermont. The goal is to make it an annual event.
"We haven't had a venue for this, where we get together collectively as a nursing group within the community, before so this is the first time we're doing it and we're really excited about it," Hassan said.
Other health care organizations are sponsors of the symposium and nurses are coming from around the state and beyond. Some nursing students from Castleton University are expected as well.
"We see it as an opportunity for recruitment efforts and also re-engagement of nursing staff. They can see it as a benefit to staying here that we support them professionally and put time and resources into supporting their professional development," she said.
The diversity of attendance is important, according to Hassan, because there are not many opportunities for nurses to get to know each other, network and share professional experiences.
Most of the presenters are from RRMC or the Rutland area. Topics will include ways to stop bleeding during an emergency, management of sepsis and care for patients with autism.
One 15-minute presentation, "Safety for Nurses,' will be given by Chuck Cacciatore, chief of security for the Rutland hospital.
The "Stop the Bleed" training is a national program for applying tourniquets in response to the number of shooting incidents across the country, Hassan explained.
About 20 "poster presentations," which Hassan said are evidence-based practice work. The large posters provide details about a nursing practice.
While the symposium was being planned, Hassan said she and other organizers, like Amy Martone and members of RRMC's nursing governance council, the magnet program specialist at RRMC, were thinking modestly.
Because it was their first symposium, they hoped maybe 50 nurses would attend.
Instead, they had to cut off registration this week when they reached 150, the maximum number the symposium could accept.
The symposium has its roots in another Nurses Week event. A documentary on nursing was screened at the Paramount Theatre in 2018.
"We had a great turnout for that but we thought, 'What's something else that we can do to bring the community together?' Amy and I were at another conference and we said, 'We can do this.' So we brought it to the nursing shared governance council and they said, 'Yeah, let's do this,'' Hassan said.
Those who participate in the full day of programs will get six hours toward the continuing education development required of nurses.
The symposium is free for RRMC nurses and nurses working for the other sponsors and $20 for other nurses.
patrick.mcardle
@rutlandherald.com