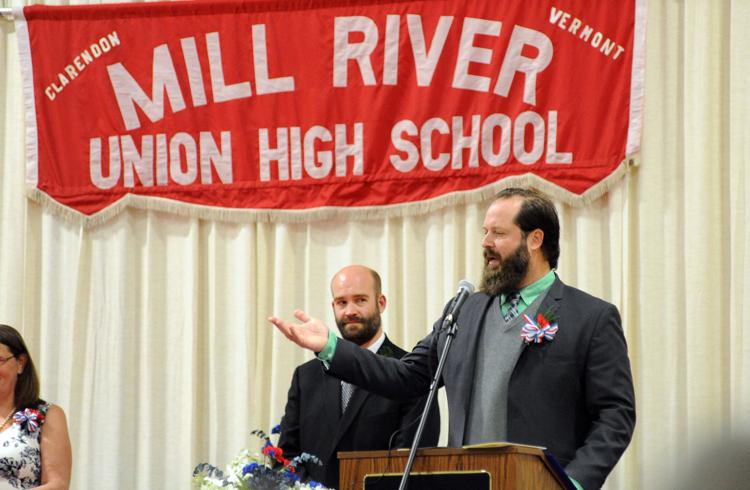 A recording of Mill River Superintendent David Younce addressing his staff in a tense, angry meeting has surfaced, in which Younce compares staff who he felt were undermining him to a "cancer," and "critters" who would scatter when the lights were turned on, indirectly accusing them of eroding his authority.
The recording illustrates how Younce's approach had made teachers in the supervisory union feel threatened and marginalized, according to multiple teachers contacted for this story. In addition, these teachers feared that if they spoke up, their jobs would be at risk.
But in the recording Younce details how rumors about his personal life had negatively affected him and indicated deeper problems in the district.
He called the Oct. 19, 2018 meeting to confront the rumors in an Oct. 17 email — provided to the Herald by faculty who asked not to be named — addressed from David Younce to "All Staff" called for a mandatory meeting two days later at 8 a.m. "sharp" in the Mill Union River High School auditorium.
Someone in attendance recorded the meeting, and left the recording on Rutland area NAACP chapter President Tabitha Pohl-Moore's porch. Moore, former chairwoman of the school counseling department, provided the recording to the Rutland Herald and confirmed the voice as being Younce's.
"I was present for this meeting, and I can confirm the voice that I am hearing is indeed the voice of the superintendent," said outgoing MRUHS Principal Todd Finn upon listening to the recording earlier this week.
English language-arts teacher Jennifer Little said she, too, had been at the meeting. She confirmed that it is Younce's voice on the recording. Former MRUHS math teacher Gary Ackerman also confirmed that the man speaking on the recording is Younce.
"I acknowledge that I met with District employees to notify them that malicious and false rumors about me were unfounded," Younce said in an email Tuesday. "I am sorry that a staff member chose to record the meeting without my knowledge or consent. That kind of conduct is not consistent with my understanding of professional behavior."
After rumors spread that Younce had allegedly been inappropriately involved with another faculty member, Younce said his audience would be getting "unfiltered Dave."
In the recording, he began by saying he personally requested a copy of the banner printed with the words "You Will Be Found," an initiative started earlier that year by Finn as a suicide awareness campaign.
"Today I'm really going to focus on these last two lines ... 'You will be found,' and 'Here, you matter,'" Younce said. "I have been struggling ... Personally, for the past, let's say, roughly, month, I've wondered if I matter."
In the recording, Younce said he heard a rumor that he was allegedly having an affair with another teacher in the district. He is married to Beth Younce, who serves as the district nurse.
Younce said he was called out of a superintendent's conference in Montpelier by a phone call informing him of the rumor.
"If any of you know my wife or my marriage ... you know I live the best damn life there is," Younce said. He said he and his wife talked over the impact the rumors would have on their children, and wondered what it said about the people working in the district.
"I'm a white, Christian male, over 6 feet tall ... I check all the boxes to be able to do whatever I want in this world," Younce said. "... I got all the power in the world, especially in this context, in school — I can do anything I want."
How would people in the district treat someone who did not have these things, Younce asked, if they would attack someone with "all the boxes checked."
Later, Younce said his actions were analyzed regarding his relationship with the faculty member involved.
"The District investigated my behavior after learning of the rumors," Younce said in an email. "It found the allegations unsubstantiated."
In the recording, he claimed to have his hands in every project and to know more about the district than anyone has ever known.
"I also know more than any other Mill River parent knows ... about their teachers, about their administrators, about their School Board, about their communities. If other people knew what I knew, they might not be the proud Mill River parents that I am," he said in the recording.
Younce said he didn't feel confident or strong about the team of faculty and staff at Mill River, and he wanted every staff member to remember Oct. 19 as the day the Mill River community turned a corner.
"You're going to be turning a corner, or you're going to be gone," Younce said. "When I was a kid ... I used to love turning over rocks and watching all the bugs and worms and beetles scurry away ... it's time to start turning over rocks."
Younce said the truth about Mill River was that some in the district were working against the schools.
"There has always been a cancer lurking beneath the surface," Younce said. "And it's doing its nasty work."
Younce referred to the words "You Will Be Found," and told staff he would be looking and listening for staff acting against him.
"I'm not telling you that as a positive today," Younce said. "If you're the critter that's going to scurry when the lights come on, you will be found. You have former colleagues ... who have been found ... I'm not going to tolerate bugs underneath the rocks."
Former MRUHS math teacher Gary Ackerman returned to teach at MRUHS in September 2018, but left in February to teach at Greenfield Community College. He said the meeting felt discouraging and uncomfortable.
"(I thought) if this is the culture and this is the way teachers will be talked to when situations arise ... it's probably time for me to go ... if I talked to students this way, I'd probably be written up and reprimanded," he said in an interview Tuesday.
Younce then referred to the Kid Rock song "Only God Knows Why," saying "people get what they deserve," before assuring the audience that he is directly involved in every piece of work done at Mill River, and would continue to be, whether they liked it or not.
"I guarantee you, I'm here for at least another three school years," Younce said. "So if the stuff we're doing ticks you off ... you're still stuck with me."
In the recording, Younce promised to protect anyone who came forward and assured the audience that they and their kids are more vulnerable than he was. He told them to submit if they had any knowledge of any other members of the Mill River community doing anything unethical.
"I'm dead serious," Younce said. "I care about this place more than you know, and if I didn't, I wouldn't be standing here."
Finn said Younce later approached him and said he regretted his negative reference to the "You Will Be Found" banner.
"The superintendent's choices are his prerogative," Finn said. "He's the leader in charge of the district."
katelyn.barcellos
@rutlandherald.com