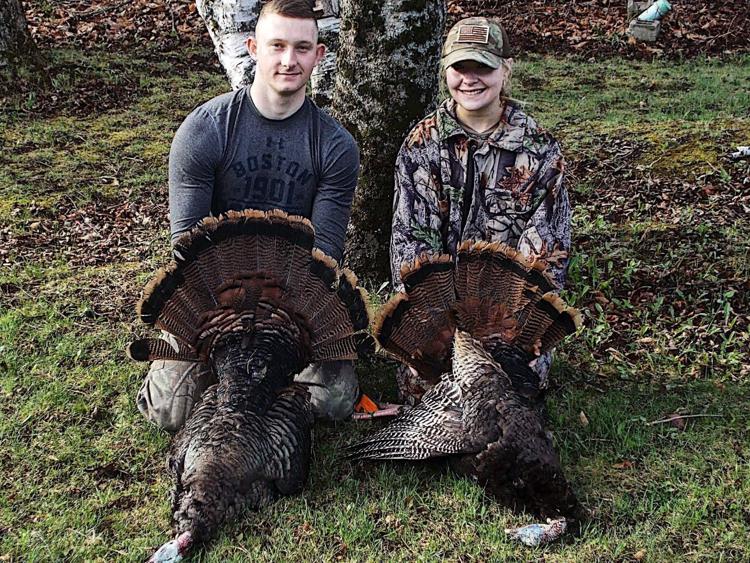 NORTHFIELD — Norwich University paid tribute to one of its own this week.
Keanan Thompson, 22, a senior cadet at the military college, died after a hit-and-run crash Sunday on Interstate 91 near Weathersfield.
On Wednesday, police identified the driver of the other vehicle involved as Patricia Whitcomb, 65, of Charlestown, New Hampshire, after she went to the Westminster Barracks on Monday and reported that she believed she may have been the motorist who had struck Thompson in the southbound roadway.
Further investigation by police confirmed Whitcomb's car, a gray 2004 Honda Civic with New Hampshire registration, was the vehicle involved in the incident, police said in a printed statement.
The accident remains under investigation, and troopers are consulting with the Windsor County State's Attorney's Office regarding any possible charges that may arise from the incident.
Police said Thompson, of Stockbridge, was traveling south at about 12:50 a.m. Sunday, when he lost control of his Jeep Wrangler and was ejected from the vehicle into the roadway.
Before witnesses could begin to render aid, police say an unknown gray, four-door sedan, drove through the accident scene, striking Thompson. He was pronounced dead at the scene.
At Norwich University this week, fellow cadets, university faculty and staff members mourned their loss. Mourners included Thompson's fiancée of three years, Madison Eline, who was in the same class with him.
"This is a heartbreaking tragedy, and the Norwich family's thoughts and prayers are with Keanan's family, friends and community," said a Tuesday statement from the university.
Also on Tuesday, there was a late-evening echo Taps ceremony and a silent vigil by 1,500 cadets to honor Thompson — a tradition to honor all fallen Norwich cadets.
"The echo Taps ceremony was by far the most amazing one I've ever attended," Eline said. "Usually when it's over, everyone goes back to their rooms, but tonight, everyone just kind of stood there after for a very long time, no one wanted to leave.
"The support was incredible, which really proved how influential Keanan was," she added.
Eline and Thompson were both criminal justice majors at Norwich, due to graduate in the spring. Both were also members of the Vermont National Guard, and both planned to apply to be troopers with the Vermont State Police.
"Keanan was on the dean's list, he had a really great GPA, we always had the same classes and would help each other," Eline said this week. "Everyone at school knew that he was a great leader, and I knew everyone went to him (for help and advice).
"When he was at a cadet training this summer, I know that people in both of the platoons he was in looked to him for guidance — that's just kind of who he was — and in ROTC (Reserve Officer Training Corps), he was a platoon sergeant ... and everyone there looked up to him," she added.
Eline said she believed Thompson was headed for his parents' home in Perkinsville, near the scene of the crash, when the accident happened Sunday.
Eline said Thompson's death was a second loss for the family in a just a few months. Thompson's older brother, Christian, 26, died of a drug overdose in July. That loss was why Keanan Thompson wanted to be a police officer, so that he could fight the drug epidemic in Vermont.
"That's kind of why he wanted to go into law enforcement," Eline said. "He saw the path that his brother was taking."
Eline said she would continue to follow their plan to apply to be a state trooper, and said she submitted her paperwork Tuesday, and would also commission in the U.S. Army as a lieutenant later this year.
"I'm still going to do the same exact plan we had," Eline said.
Eline said she heard the news about Whitcomb contacting the police about the accident on Tuesday night and was troubled as to why she did not stop and left the scene of the accident.
"I have no idea what she was thinking at the time; if she knew what she had done or not," Eline said. "Whether or not she knew exactly what was happening or what she did was irrelevant, she should have stopped.
"I am thankful that she turned herself in, and to Ms. Whitcomb, you made the right decision by going to the police and know that I am grateful for that," Eline added.
A GoFundMe site to raise $7,000 for funeral expenses for the family had reached more than $30,000 on Wednesday afternoon.
A memorial service for Thompson will be held in Norwich Chapel at Norwich University at 2 p.m. Monday.
Anyone with information about the crash is asked to call State Police at 802 722-4600.
stephen.mills @timesargus.com