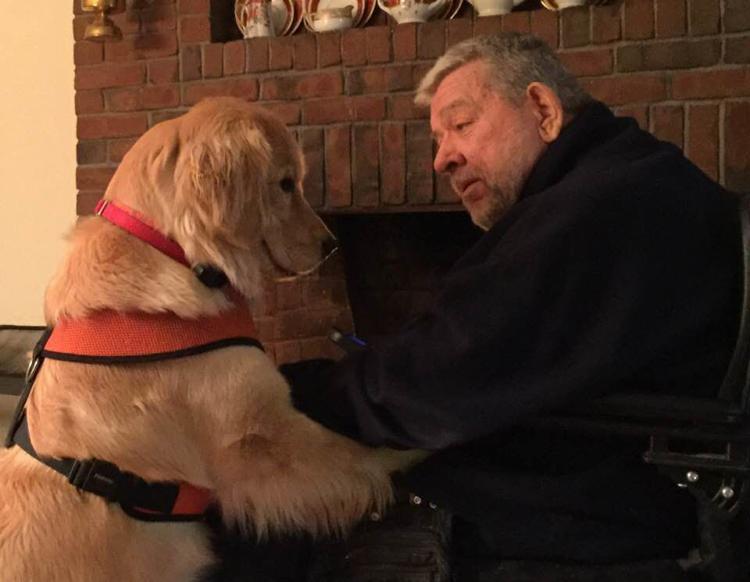 In 1988, David Sagi lost his seat on the Board of Aldermen.
He'd only had it for three months. Then-mayor Jeffrey Wennberg had appointed Sagi to fill a vacancy, but the voters decided not to leave him there. A month later, another vacancy arose and Wennberg appointed Sagi again.
"A Herald reporter said, 'He didn't get elected — how many times are you going to appoint him,'" Wennberg recalled Wednesday. "My response was 'As many times as it takes for the voters to understand he's the best person for the job.' I was willing to do it 20 times if David would have it."
Sagi, who died Wednesday, was re-elected in 1989 and went on to serve for almost a decade, including two terms as board president. He was also the state coordinator for the Americans with Disabilities Act, a position he took after years of running the regional office of the Division of Vocational Rehabilitation. Colleagues remembered him for his polite determination, which they said made him a powerful force for change in the city.
"He was always prepared," said Board of Aldermen President Sharon Davis, who served with Sagi when she first was elected as an alderwoman. "I learned a lot from him. He was engaged. He knew the issues. ... He served the city very well."
Sagi was wheelchair-bound after a paralyzing accident suffered in 1971. Former mayor John Cassarino said they both worked at Central Vermont Public Service at the time, and that Sagi, a line worker, was in a utility truck when it was struck from behind. The damage was not noticed until that night, Cassarino said, when Sagi jumped into a swimming pool.
"They think it was from when he got hit," Cassarino said. "A lot of times, you get hit and you don't realize until you move a certain way. ... At that point, they gave him five years to live."
They would later serve on the Board of Aldermen together, and Cassarino said he encouraged Wennberg to appoint Sagi the second time.
"I had a lot of respect for the guy," Cassarino said. "He got up every day and went to work, and his work was very important. I understand it now more than ever because I'm using a walker, and I'm learning how hard it is to get around. ... He was a real person of integrity. Dave was a guy that could have sat at home collecting a disability check, but that wasn't the way he wanted to live his life."
Wennberg said he suspected that Sagi's paralysis played a role in his first loss at the polls.
"David had a disadvantage in a town where knocking on doors is expected if you're going to run for office," he said. "Wheelchair-bound in February, that's a hard thing to do."
Appointed to a seat he could fill for almost a full year, Wennberg said, Sagi had the chance to show the public what he was capable of in office.
"Apparently, the voters got the message because he was the top vote-getter in 1990, and he may have been the top vote-getter from then on," he said.
Wennberg said Sagi worked for Rutland residents well before getting on the board. Early in Wennberg's first term as mayor, Sagi approached him about creating the CAIR Committee, which advises the city on issues of access for people with disabilities. Wennberg said Sagi's efforts earned the city a state award typically used to recognize businesses that had gone above and beyond on disability issues.
"No municipality had ever been nominated," Wennberg said. "It was always a private business. Rutland was the first municipality to get the award. The reason we were recognized was the work of David and the CAIR Committee."
As an alderman, Wennberg said Sagi helped negotiate the agreement for the owners of Diamond Run Mall to pay annual impact fees to the city, used to fund a variety of community improvements in the ensuing years.
"It was important not to get too far ahead of the Board of Aldermen during those conversations," Wennberg said of the closed-door talks with the developers. "We needed somebody as a sounding board. ... He was probably the single most-trusted individual on the board. The board would trust him to represent them and provide the feedback they needed to hear without spin."
Thomas Donahue, today the executive director of BROC, preceded Sagi as board president and worked with him in a number of other capacities.
"Dave was the foremost expert in the state on (the Americans with Disabilities Act)," Donahue said. "He was an incredibly likeable man. When he was guiding people through the process, in an enforcement capacity, he did it in such a friendly and pleasant way. He worked to educate and explain ADA in a way that got everyone on board. ADA was such an important law and he was critical to the way it was accepted in Vermont."
Nanci Gordon, an outreach specialist for VT211, said Sagi mentored her when she was at a nonprofit that worked closely with Voc Rehab.
"He was a benevolent figure who oversaw everyone directly or indirectly," she said. "He set a nice tone. ... He earned people's respect in a very gentle way. He lived an example to the clients of how to reinvent yourself after a disability. ... He was in the prime of his life when he had his accident, and he was someone who plowed through."
Wennberg said Sagi was successful because of a combination of patience and determination.
"I never saw the guy get angry — maybe a little piqued, but never angry," he said. "He was always forward-looking, always positive and always working to make this a better community — not just for people with disabilities, but for everyone. I always appreciated how he would always come forward with a solution. ... He wouldn't just say, 'It needs to be fixed.' That was never his style. ... His persistence and his 'let's solve it together' approach got so much done."
gordon.dritschilo
@rutlandherald.com