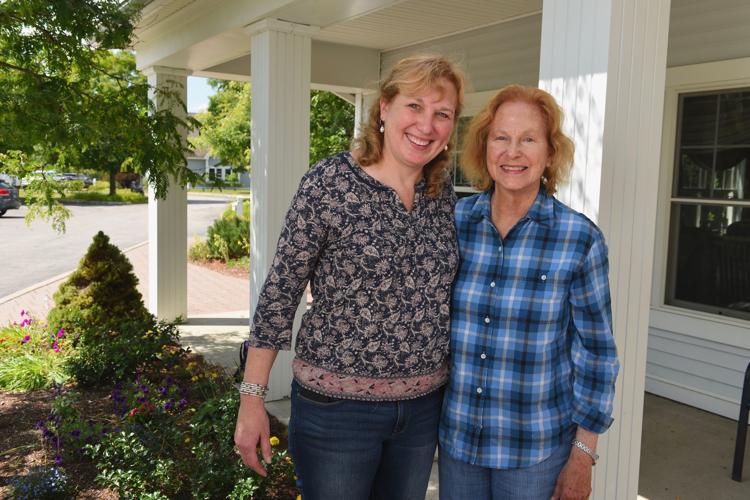 Jenny Craig said she doesn't remember when she was diagnosed with Alzheimer's Disease.
The 79-year-old resident of The Gables couldn't even say much about what led her to get the diagnosis.
"When you have this, you don't start noticing anything," she said. "You just start to fade. Other people notice it. It doesn't hurt. You just fade."
Craig's short-term memory, at least, held together through an interview on the patio of the Gables on Thursday, and she remains lucid enough to be active in advocacy for Alzheimer's patients and their families. She and her daughter, Betsey Bianchi - who also serves as her caregiver - will be among the participants early next month in the Walk to End Alzheimer's.
The walk is scheduled for Sept. 7, with registration opening at 9 a.m. in Main Street Park and the opening ceremony beginning at 10 a.m. Organizer Jeannie Stimpfel said there is no fee for joining the 1- or 2-mile walks.
"It's a loop, so we don't get lost," Craig quipped.
Donations are appreciated, and many walkers raise money for the event. Walkers who raise $100 get a T-shirt, with other prizes available for raising more.
Stimpfel said organizers have set a goal of raising $44,000.
"Last year we raised - I think it was $35,000. We have some growth to do here. ... Right now, we've got 76 participants. Most folks register the day of the walk. We're hoping for 275 to 300 people the day of the walk."
Stimpfel said the Alzheimer's Association spends 6% of the money it raises on administrative costs and another 17% on publicity to promote fundraising, with the remaining 77% going toward Alzheimer's care support, research, awareness and advocacy.
Craig is originally from New Jersey, where she had a career as a social worker.
"I was part of the group that established the whole idea of what school social work was about," she said. "We created the diagnosis and what needed to be done for kids with learning disabilities and school difficulties. ... My daughter came up here for college and stayed."
Bianchi, who works in IT at Rutland Regional Medical Center, said she started noticing the changes in her mother about five years ago during a visit to Vermont. Bianchi said her mother was forgetting their plan for the day or things that had just been said a moment before in conversation.
"Not all the time, but something was not quite right," she said.
Bianchi said Craig's doctor in New Jersey refused to screen her for Alzheimer's, saying "it didn't matter anyway because there was no cure for it." So in November 2015, Bianchi got Craig tested at a clinic in Bennington. The tests came back positive and, despite what the New Jersey doctor said, the diagnosis mattered.
"First of all, you know you're not crazy," Bianchi said. "She gave up driving herself. She got her finances in order. She moved up here."
Craig also enrolled in a clinical trial for an experimental drug, but was dismissed from the trial when she had an adverse reaction.
"It's still a good thing because that gives them information on what can make the drug better," Bianchi said.
Craig makes no effort to paint a rosy picture of the disease or even sanitize the experience - she calls it "dreadful" and "disgusting" - but maintains what she calls her "Irish sense of humor," talking about how she still reads The New York Times daily, even if she has to read the same article several times and "even if it pisses me off." She repeatedly talked about trying to hold on to who she is, and she said she found a way to do that in how she reacts to the Alzheimer's.
"I'm a social worker," she said. "The most I can do with this stupid disease is to help people know about it. ... It's affecting a lot of people and it's not going away."
According to the Alzheimer's Association, 5.8 million Americans have the disease and one senior in three has it at the time they die.
Bianchi said she checks in with her mother daily, writing out a plan for the day and putting it on her refrigerator, doing her shopping, making sure she takes her pills and "keeping a weather eye out." Bianchi said she also makes sure her mother has fun - even if Craig answered a question about what she does for fun by saying "Nothing - it's not fun anymore." Bianchi recalled taking her mother to the Vermont Symphony Orchestra and seeing a big smile cross her face.
"You might not remember it the next day, but you loved it at the time," she told her mother. "You have to live in the moment for whatever that moment is."
Bianchi reminded Craig about the pride she shows attending her grandson's baseball games.
"It keeps me alive that I still can understand that and take joy," she said "It's a horrible disease, but you shouldn't be afraid of it, and we need to break the stigma. ... It's much better to face it than deny it. Come join us and be hopeful."