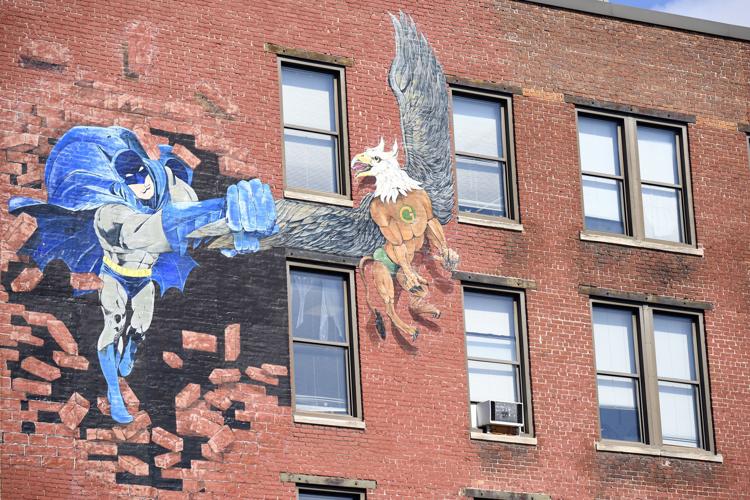 Decades after meeting him in Montpelier's Kellogg-Hubbard Library, the longest-serving U.S. senator, Patrick Leahy, D-Vt., is wishing a happy 80th anniversary to his best-known associate and Gotham City's Dark Knight, the Batman.
DC Comics has published an 80th anniversary tribute to Batman to mark his debut in Detective Comics No. 27 in March 1939. The book, "Detective Comics; 80 Years," ties into the 80th anniversary, which will be marked Saturday, March 30, with a foreword by Leahy.
"Entering Batman's world through my imagination opened an early door into a lifelong love of reading though I'm sure my parents would have preferred comic books starring Donald Duck to one about a millionaire in a bat-suit. Especially for kids, and many Americans, the early 1940s and 1950s were sometimes unsettling times in our world. We saw the Batman as a hero who could protect us from forces that we couldn't control — but that he could," Leahy wrote.
On Thursday, Leahy said he had been an early reader, maybe because his parents owned a printing business in Montpelier. He said he was a frequent visitor to the children's wing at the Kellogg-Hubbard, where he discovered Batman comic books.
Asked what about the character has stayed with him, Leahy said the Bruce Wayne character could have lived an easy life but "instead he spent his life trying to help other people."
"He had no super powers, but he had to use his brain; he had to use his knowledge and his physical prowess. Someone else in his position might have just taken a nice easy life. Instead, he constantly risked his life to help others," Leahy said.
Writing the foreword brought some unexpected pleasure to Leahy, he said. At first he said he wondered where he would find the time but once he started writing he found it was about more than just Batman.
"The happy memories that came back, sitting on the porch of my parents home in Montpelier, sitting on the lawn, reading with my friends, the fun of being in the movies but also the happy memories in that library," he said.
Leahy's fandom crossed over into his legislative career in a few ways. One of the most prominent involved the senator's efforts to prevent the United States from exporting land mines. Leahy wrote the first law to reach that goal in 1992.
In 1996, DC Comics printed a special Batman comic book, "Batman: Death of Innocents: the Horror of Landmines."
"That (comic book) was on the desk of every U.S. senator in the U.S. Senate," Leahy said.
Vermont's senior senator has not only been a Batman fan for most of his life — in the foreword, Leahy mentions Batman appeared one year before he was born — but Leahy has also made appearances in five Batman films, starting with "Batman Forever," continuing through two of the films in the Dark Knight trilogy, "The Dark Knight" and "The Dark Knight Rises," and most recently in "Batman v. Superman" in 2016.
Leahy said the cameo appearances in Batman movies started after he wrote the foreword to 1992's "The Dark Knight Archives."
Leahy said he was asked how he wanted to be paid. He said he tried to turn down the money, but decided instead to donate his pay for the films to the Capital City's library.
"Even today, about every three months, I'll get a bunch of residual checks. They range from 25 cents to sometimes something in the thousands. They all go to the Kellogg-Hubbard. … I'm happy to do it because it encourages kids to read," Leahy said.
Leahy said he was volunteering at the children's wing on one occasion and told the children there he had a problem. He said Batman's villains had hidden their photos in the library and he couldn't decipher the clues to find them so he needed the kids to help him and his friend, Batman.
"Well, you can imagine, a bunch of 4-, 5-, 6-year-olds, the looks on their faces. Batman couldn't figure out the clues but the children could. … On the way out, in that deep, gruff voice, he said, 'I want to thank you children.' Almost in unison, (they answered,) 'You're welcome, Mr. Batman.' Both the actor and I had a hard time keeping a straight face," Leahy said with a laugh.
The senator also expressed delight with a comic book page DC made for him. Batman asks Leahy how he reacts after a busy day in Congress, and Leahy responds that he reads Batman comics. Leahy asks Batman how he relaxes, and the Justice League member tells the senator he reads the Congressional Record, which puts him right to sleep.
"Senator Leahy is a passionate fan of Batman and has had a long personal connection to the character that goes all the way back to our comic books," said DC Publisher Dan DiDio. "When we learned of his use of Batman comics in his negotiations on Capitol Hill, plus his involvement in the Batman films, we were happy to extend an invitation to him to write the foreword for the book."
Leahy said the foreword was "not really something you expect a U.S. senator to do" but he acknowledged that people already identify him with the world-famous comic book character.
"One of the actors, he told me once, 'So you have over 40 years in the U.S. Senate. What are you going to be remembered for? You're a friend of Batman,'" he said.
patrick.mcardle @rutlandherald.com