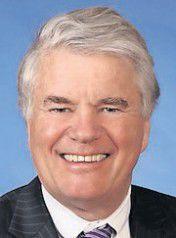 Tom Huebner, who spent more than 20 years as president and CEO of Rutland Regional Medical Center, has been appointed by Gov. Phil Scott to an advisory position with Springfield Hospital, which has been struggling with fiscal issues.
Huebner has been charged with assessing what's happening at Springfield and working with the board of directors and administrators to ensure there is a plan in place to restore the hospital's fiscal stability, according to a press release sent from Scott's office.
In a statement, Scott said what was happening at Springfield was a "very serious situation that requires immediate attention, experienced leadership, the oversight and collaboration of state government and a competent and fully transparent response."
"Tom will work with officials in Springfield and ensure that they complete a thorough assessment and communicate fully, clearly and regularly to patients, employees, the community and the state as they determine what went wrong and how to fix it," Scott said.
The Associated Press reported Springfield Medical Care Systems CEO Tim Ford stepped down last week and CFO Scott Whittemore resigned before Ford.
Huebner pointed out on Wednesday that he will not be running Springfield Hospital.
"My job is to just be another set of eyes and brain, to keep an eye on it and make sure there's a good plan that comes together rapidly and make sure that community is well served moving forward and to represent the governor in that process," he said.
Kevin Mullin, executive director of the Green Mountain Care Board, said his agency had been aware there were financial struggles in Springfield.
"During the budget process, we stressed upon them again, their expenses were growing faster than their revenue. A couple years ago, they lost over $3 million. They had projected a loss of over $900,000 for this year. It came in at a $2.5 million loss," he said.
Mullin said staff members at the care board believed Springfield was still in a position to solve the problem.
"Then I received a call from a community member who alerted me to the fact that they had not been paying some bills. I reached out then CEO Tim Ford. He kind of pinned everything on this decision that had been made (to) subcontract out for their emergency department," he said.
According to Mullin, Ford said the ill will in the community had come from doctors who were unhappy about the emergency department decision.
"He kind of downplayed the significance of their financial problems as far as not paying bills," Mullin said.
A short time later, Mullin added, Whittemore and Ford resigned from their positions.
Rebecca Kelley, spokeswoman for Scott, said Huebner was asked to play a part in Springfield's efforts because of the work he has done in Rutland and beyond. Huebner has served on the board of directors for Blue Cross Blue Shield of Vermont, the Vermont Association of Hospitals and Health Systems and the American Hospital Association.
"His reputation extends beyond Rutland," she said. "The governor, in consultation with the secretary of (the Vermont Agency of) Human Services, Al Gobeille, felt his experience and understanding of these systems was going to be really beneficial and helpful in this situation."
Kelley said Scott hopes Huebner will be able to leverage his experience to assess the situation in Springfield and work with the board of directors to create a plan and communicate with the state and members of the Springfield community.
Scott has also asked Huebner to recommend ways for the state to assist Springfield Hospital through the Agency of Human Services, the Green Mountain Care Board, the Department of Health, the Department of Mental Health or other agencies and departments as appropriate.
Huebner said that while he has worked in the field of hospital administration for many years, he has not filled a role exactly like the one with Springfield before.
He said his position will be both observational and advisory.
"Certainly, Springfield Hospital is an independent, nonprofit, private organization. It's subject to regulation by the Green Mountain Care Board for sure," he said. "My job is to make sure they're thinking of all the things they need to think about, that they're doing it on an active basis and, frankly, to be sure the state of Vermont is helping them to the greatest degree that is reasonable to make sure that community is well served."
patrick.mcardle @rutlandherald.com