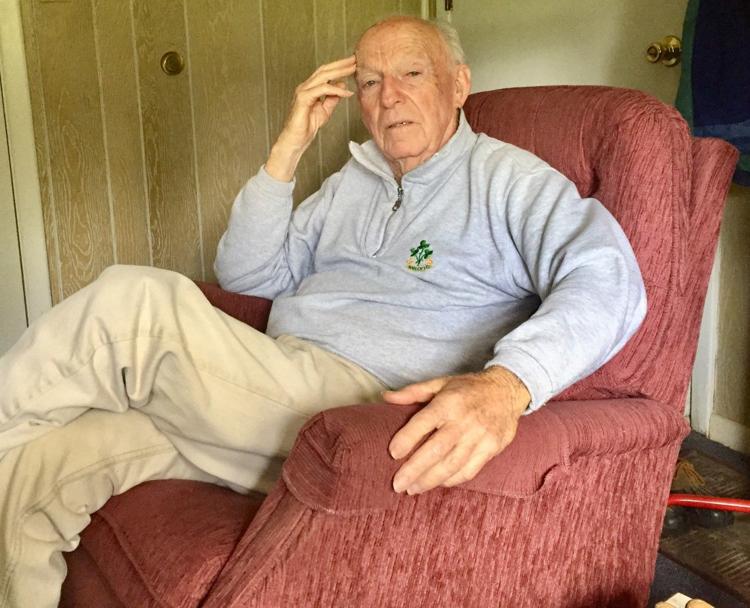 Memorial Day was created to remember those who died in war.
Frank Fressie says he remembers them every day.
The 91-year-old served as a Navy corpsman in the Korean War, and he said that since he retired from his career in education, he has thought more and more about the men he lost and the loved ones they left behind.
"Families, the Gold Star families, there are some families who, other than the telegrams and the delivery of the body ... they know nothing else," he said. "Always, in the backs of their minds, there's 'Did he die in pain? What did he want?' That galls me."
As a combat medic, Fressie said he was there at the end for many soldiers, and wishes he could have filled in those gaps for their families.
"There is no way I could communicate that," he said. "I didn't know the guys. Some, that were in the company I was in, you knew them. Other guys, if it was a big operation, it was just a casualty. ... I never knew their names. It's always bothered me those parents never got final information from a buddy. This person wasn't alone. He had one person with him who cared."
Fressie said he did not know how many of the families of casualties he worked on were still around, but that he thought new generations of Gold Star families might benefit from his message that someone was caring for their loved ones at the end.
"I've wanted to do this for years but never really got the hard enough kick to do it," he said. "This time, I feel like I've kicked myself hard enough. I feel I owe it to the families — none of whom I know. I feel I was remiss in not doing it some time before I go."
Fressie said he joined the Navy in 1945, as World War II was coming to a close.
"I was too young to be drafted," he said. "I was stupid and enlisted — just turned 17. ... They give you a series of tests. They decided my academic background — which was not good, in my opinion — and the overall composure I had, it would be good if I studied the medical end of it."
After graduating from corpsman school, Fressie was sent to the Philippines, where he said there was still fighting in the mountains, and assigned to a base infirmary. Fressie said he wasn't involved in any combat, but that seeing a small Filipino child dive into a mud puddle after a piece of egg he had discarded convinced him of the "horror and pointlessness" of war. He service took him to Guam, Shanghai and back to Guam, before he returned to the U.S. and started college.
"I was in school for two years," he said. "Korea broke out. I got the call."
This time, he was sent to serve as a field medic for the Marine Corps.
"Remember, the Marine Corps is part of the Navy, which they hate to admit," Fressie said.
Assigned to the 1st Marine Division, Fressie was one of three corpsmen in his company. "We basically ministered to the guys," he said. "Guys would get hit. Stuff would drop on you. If you started getting hit with a lot or there was a lot of rifle fire, that was the worst because you'd hear three or four places calling 'corpsman.' You had to go."
Some of the wounded could be bandaged, given some morphine and helped to safety. Others were in worse shape. Head and chest wounds were the worst, he said, because morphine was likely to kill the people who suffered them.
"You could dress it with a battle dressing, but you actually had to let him suffer," Fressie said.
Fressie said he made a point of staying with a dying soldier as long as he could, holding their hands, helping them pray if they asked.
"What are you going to do?" he asked. "Even though you've got shit and blood all over your hand, you're going to hold the guy's hand. ... You'll tell him you've called the chopper and he'll make it out of there, figuring there's a one in 10 chance they will."
Eventually, Fressie was wounded himself. Shrapnel from an artillery blast hit his legs and back. He was sent to a hospital ship.
"They asked me if I thought I could make it back on the line," he said. "I said sure I would. Who would admit they couldn't?"
Fressie said he spent another five months with his company before getting a transfer "in the rear with the gear." He helped set up a facility called "Easy Med," which he said bore resemblance to the hospital portrayed in "M*A*S*H."
"There, too, I saw a lot of guys that didn't make it and that burned into me," he said. "Guys who were strangers to me, for the most part, I remember the uniform and the wound, but not the face. If it was a guy in the company I was in, you knew who he was."
Fressie came home in 1952, finished college and went into education. He retired as principal of Proctor Jr.-Sr. High School in the early 1990s, and later served as a selectman in Poultney. During his professional life, Fressie said he learned to keep his mind busy. After retiring, he said, the nightmares came back.
"You're back there," he said. "You have a kid laying there ... you smell them. That's one of the things that's worse for veterans who've been in this stuff — the smell of burning flesh, or anything like it."
Fressie said he undergoes treatment for post-traumatic stress disorder at the Veteran's Administration hospital in White River Junction.
Fressie said the people he lost are still with him, but that he hopes it helps their families to know that someone was with them to the end.
gordon.dritschilo
@rutlandherald.com