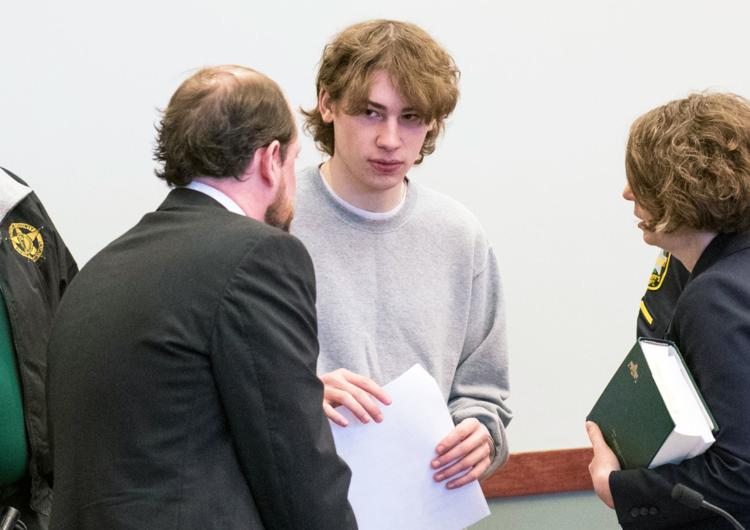 Jack Sawyer may never have actually tried to follow through on the school shooting at Fair Haven Union High School that police said he was planning, but the possibility of what might have happened continues to have repercussions a year after Sawyer was arrested.
Sawyer, who was living in Poultney a year ago, was charged with four felonies in February 2018 — two counts of aggravated attempted murder, one count of first-degree attempted murder and one count of aggravated assault with a weapon.
The case may have attracted extra attention because it became public within days of the shooting at Marjory Stoneman Douglas High School in Parkland, Florida, that killed 17 people.
By August, the charges against Sawyer were apparently moved to family court, the records of which are confidential. Court officials never made a public statement about whether the case had been moved to family court, but on a date when Sawyer's case was scheduled to be heard, a listing of cases posted outside family court included one for "J.S."
By that time, based on a decision by a three-member panel of the Vermont Supreme Court that said Sawyer couldn't be held without bail because there was no evidence he planned to carry out his alleged plans, the felony charges against Sawyer were dismissed and he was charged instead with two misdemeanor charges — criminal threatening and carrying a weapon with the intent of harming another person.
The case has resulted in passage of gun control legislation supported by Gov. Phil Scott, which led to Scott being challenged in a primary when he ran for re-election, and a domestic terrorism law that criminalizes a threat of violence if police prove the defendant took substantial steps toward carrying out the threat.
While many in Vermont have moved on to other concerns, some in Fair Haven are still unhappy they never learned the outcome of the criminal charges against Sawyer.
"I think for us, there hasn't been closure so I think there's still some lingering effects for both staff and students. At the end of the school year last year, we lost five staff members directly attributed to this scenario. They either left the field of education altogether or went to work in a different school district, so that's been difficult," said Brooke Olsen-Farrell, superintendent of the Addison-Rutland Supervisory Union.
While the superintendent calls Fair Haven one of the "safest schools in the country," she said the Sawyer incident may have affected the school's student count.
"Definitely our school choice numbers and early college numbers are up this year with more students choosing to not be at Fair Haven. I don't know what percent of that is definitely related to this scenario, but definitely our numbers are up in both of those areas," Olsen-Farrell said.
On Thursday, Scott announced a contest in which high school and middle school students are asked to create a video based on the theme, "See Something, Say Something."
He spoke of a friend of Sawyer's who told police Sawyer was talking about committing an act of violence at the high school.
Scott said she had the courage to say something when she saw something that wasn't right.
During a phone interview Thursday, Scott said that while he had once been steadfast in resisting any changes to gun laws, he changed his mind after reading the affidavit created by police in the Sawyer case.
"What I saw happen in Parkland, I didn't believe could happen in Vermont. Again, one day after reading that report, it was one of the most interesting but horrific pieces of the investigation. The affidavit really, really had an effect on me. I knew I had to take action. I chose action over inaction, and I knew that I was committed to doing so, that it was going to be a tough battle. It's not easy to admit you're wrong, especially to your friends and family who were disappointed in the decision that I made, but I was ready to suffer the consequences of my actions," he said.
The laws Scott supported last year included a ban on bump stocks, expanded background checks for those buying guns and banning the possession of high-capacity ammunition magazines.
Keith Stern, who challenged Scott in the Republican gubernatorial primary, disputed Scott's support for gun rights.
"I was OK. I knew that regardless of the outcome, that I had done what I thought was right, and I had no regrets other than disappointing people, and I don't take that lightly either," Scott said.
One piece of evidence collected by police was a journal Sawyer allegedly kept in which he wrote about his plans to attack the school. He mentions only one person he planned to kill: School Resource Officer Scott Alkinburgh.
Now a police officer and school resource officer in Castleton, Alkinburgh acknowledged the incident had changed his life.
Alkinburgh, who said he's confident that police would have successfully ended the threat if it had become reality, said his whole life revolves around training and teaching crisis responses to schools and police in the area.
"I used to be a big archer. I used to shoot my bow every day. Now I shoot my handguns and my long guns way more than my bow. Archery was my release, if you will. … I was always into hunting and fishing and hobby sports, shooting quite a bit, competitive shooting. That just had to go back to the front all the way. I found myself, I couldn't pick up my bow anymore without feeling guilty of not picking up my handgun," he said.
Learning his name was in the journal and seeing his face on television was difficult for Alkinburgh's wife.
"I teach her that we're going to win no matter what. Fortunately, she's strong but you could tell it bothered her, and I felt guilty for that," he said.
Despite the national attention to the case, Alkinburgh said no one had ever interviewed him about it until this week.
"Was it scary? Of course. Was it confusing? Yes, because I had never had an ill word (with Sawyer). That was very unsettling and confusing. I guess you're a bunch of emotions. You're like, 'Me? What did I do? I was always nice to you.' ... It also made me think to myself, 'Well, this guy is super twisted.' I'm human, right? But as a gunfighter, I'm thinking to myself, 'All right. I took an oath.' I wear a gun every single day. … For that part of it, I'm like, 'All right. If that's what has to go on.' But nobody wants that," he said.
Alkinburgh said he left Fair Haven for Castleton because he thought it was a "better fit."
Fair Haven Police Chief William Humphries agreed with Olsen-Farrell that residents in Fair Haven were frustrated.
"The problem we have with this case is there's no closure with this case, so we're still living with it from a year ago. … It's hard. We plan every day for something like that or who is the next person going to be," he said.
State Sen. Dick Sears, D-Bennington, said he didn't regret supporting the legislation that allowed cases to be moved from criminal court to family court. The legislation was designed to be available in nonviolent cases, and Sawyer had not been accused of actual violence.
But he added that he believed the extreme risk protection legislation, which was first used against Sawyer and allowed police to seize Sawyer's guns, would provide more protection than the gun control legislation.
Rutland County State's Attorney Rose Kennedy can't discuss the Sawyer case. Bennington County State's Attorney Erica Marthage said she didn't know how many cases had been moved to family court, only that the number had increased.
"I think what we're still working on as a state in the Legislature, we're working on the idea, how do we incorporate public safety into a conversation where we're also talking about a defendant who is younger than a lot of the more seasoned defendants that we deal with? If you're talking about someone who's 20, we're really focused more on rehabilitation," she said.
The governor expressed no regrets about how he responded to the Sawyer case.
"As governor, you have a tremendous responsibility, and I believe that public safety is of the utmost concern. It's the top priority of any elected official, particularly governor as someone that oversees the state, and I take that responsibility seriously. I don't take it lightly. I knew after reading that affidavit, I had to do something," he said.
patrick.mcardle
@rutlandherald.com