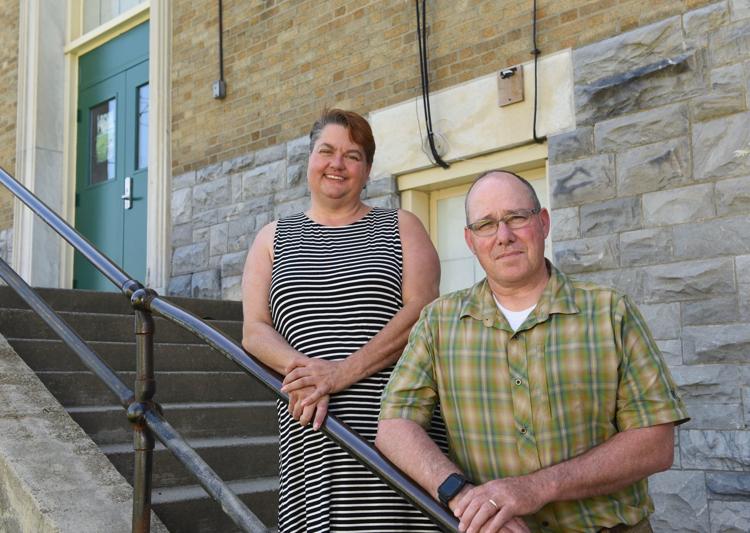 Now that former Christ the King School and Mount St. Joseph Academy principal Sarah Fortier has spread her wings and flown to the sunshine state, former Christ the King School vice principal Lila Millard and recently-appointed MSJ vice principal Mike Alexander are stepping up to be the new acting interim principals for Rutland's Catholic schools.
"I fought for it," Millard said of her interest in the CKS position. "I'm fully vested in this school."
"I am excited for the opportunity, no different than when I was excited about being the vice principal," Alexander said. "If you give me this opportunity, I'm going to take it, and I'm going to run with it."
Earlier this year, Alexander, formerly the head of School Counseling for the Slate Valley Unified Union School District, accepted the vice principal position at MSJ.
While the diocese of Burlington and its newest superintendent for the 11 Catholic schools across the state, Dr. Jeanne Gearon, decide whether to keep the merged position Fortier left behind to create separate principalships, both Millard and Alexander said they're thrilled to take up the emerald torch leading Rutland's religious educators.
Gearon could not be reached for comment.
Their immediate positions aren't necessarily permanent, Millard said, and the two will supervise their schools without the backing of an assistant principal for the time being as they adjust to Fortier's sudden departure. But the interim principals on Wednesday expressed nothing but preparedness, excitement and calm.
With two master's degrees and 25 years in the Army, Castleton native Alexander said at his core he falls back into a rank system supporting the leader above him, and doesn't shy from leadership missions. His most recent appointment came just in time for his official principal license to go through.
"Since I retired from the Army in 2013, my personal, professional development has been geared towards ultimately being a principal," Alexander said.
Millard and Alexander praised the culture of education requiring specially-tailored leadership rooted in compassion and a deep understanding of the developmental stages of learning.
"I want the general public to understand that we are here, first and foremost, for educating students," Millard said. "We can offer some additional supports public schools can't."
The conversations and lessons structured around a faith-based education system serve a different portion of the developing brain relating more directly to the moral and ethical notions of spirituality, according to a doctrine welcoming of all faiths, Millard said.
"The philosophy that we come together with ... is, you're making choices for your life," Millard said. "But you're also making choices that impact so many things around you."
Millard said she'd like to see CKS further invest in advanced technologies — many students already have access to Chromebooks — but also strengthen students' connections with trade schools and institutions of higher learning, especially given the recent closure of three of Vermont's colleges.
"I'd like to grow not just in numbers but in the things we can offer our kids," Millard said. "We bring technology to these kids ... (but) how can we bring more?
"It's not just getting the stuff, it's also teacher education."
Unlike many public schools, neither MSJ nor CKS are reallocating mass funds for para-educators, Millard and Alexander said, largely due to the vast diversity of education — even across a single grade — that isn't as present in a tuition-driven school, as well as the learning addressed by the spiritual and emotional facets of a Catholic-based, private education.
Clarendon native Millard has been serving CKS since 2007 after graduating from Mill River High School. She started as a parent volunteer at CKS before she began working with kindergarten students on a case-by-case basis.
By fall of the next year, Millard had become the librarian while she finished her bachelor's degree and student-teaching requirements.
"I finally figured out how much I enjoyed being in the school," Millard said of her decision to pursue higher education later in life. "(A degree) doesn't hurt."
With her BA in hand, Millard decided she would eventually like to explore teen education, and shot for her master's to be able to teach at a higher level. She served as interim principal before Fortier was appointed as principal at both schools.
Millard said she will complete her second master's degree this year in educational administration.
Millard and Alexander said they had hoped to form new school-to-school collaborative initiatives before, and will now work closer together to cultivate the seamless transition and tradition of students from CKS to MSJ, and secure educational opportunities beyond — all while continuing as students themselves in their new capacities, they said.
"The person who says he knows everything about leadership is lying to your face," Alexander said. "It is a lifetime endeavor."
katelyn.barcellos
@rutlandherald.com