College of St. Joseph preps to celebrate final graduates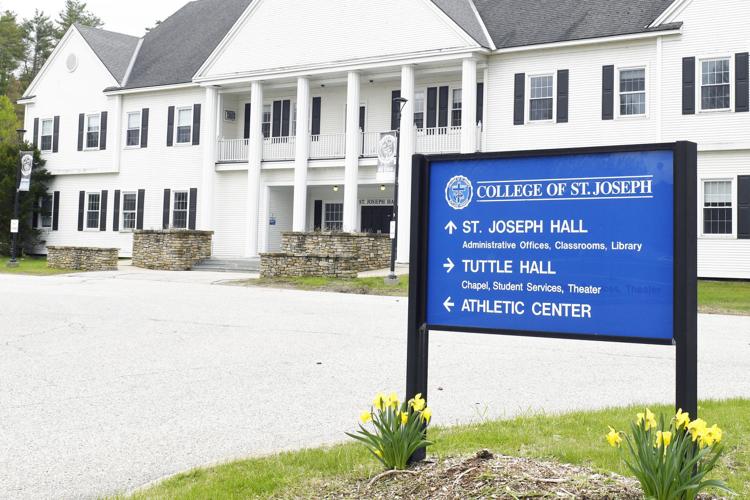 In less than a week, College of St. Joseph will host its 60th and final graduation, bringing an end to the college in its current form.
The college's president, Dr. Jennifer Scott, said school officials want Saturday's commencement to focus on the graduating seniors rather than the closure of College of St. Joseph (CSJ).
"We want (commencement) to be a celebratory experience for (students) because they deserve that. They have achieved a lot in their time here at CSJ and their families deserve to celebrate with them and so it should be a meaningful occasion as it has always been" she said.
Scott said there are expected to be about 90 students in the Class of 2019, the largest-ever graduating class for the small, independent college.
Beccalyn Dugan, of Benson, who will be graduating Saturday with a major in business administration and a minor in accounting, said commencement will be exciting and sad.
"It truly is a special school and it's going to be sad that it's the last graduation but I am excited because of all that I've accomplished within the four years. I'm sad that others aren't going to have the same experience that I had," she said.
Dugan is planning to pursue her master's degree at Castleton University in the fall. She said the graduation feels special to her and her peers.
"You can definitely tell there's an extra heaviness because it is the last one so we feel it has to be bigger, it has to be a little more special because there's nothing out there that's going to be the same as graduating from College of St. Joseph because there won't be one," she said.
Already working for the Rutland County public defender's office, Cassandra Sourdiff, of Brandon, will receive her bachelor's degree in criminal justice on Saturday. She said the event will be bittersweet.
"I've actually been on campus since 2012. I did the Stafford Technical Center program that was stationed there so it's held a special place in my heart for many years now," she said.
Sourdiff said the loss of CSJ would be felt for a long time to come.
"CSJ served as a great institution for people who either otherwise wouldn't go to college or they're the first in their families. Many of the students have been very lucky to have access to CSJ," she said.
Sourdiff said just getting to commencement has been enough work and she's not aware of any plans to do something special for the final one.
"There's been quite a few farewell parties and those sorts of things leading up to it but as far as the ceremony itself, if there is something, I guess it's going to come as a surprise to me. Would be nice though," she said.
Scott said the commencement's organizers, wanting to acknowledge the importance of the final graduation, invited Sister Shirley Campbell, of the Sisters of St. Joseph, to speak on Saturday.
The school started as Rutland Junior College but the campus was eventually purchased by the Sisters of St. Joseph. In 1956, St. Joseph's Teacher's College was formed and in 1960, after the state granted the college the right to confer a bachelor's degree in education, the name was changed to College of St. Joseph the Provider.
Scott said she is proud that a small Vermont college has lasted more than six decades.
"CSJ has given a lot to people in this community. Those who came here learned and they grew and they made lifelong friends and they moved out into the world. CSJ will always be part of them. And this year, while it has been difficult, has also been triumphant," she said. "No one expected us to have another year. Last spring, the expectation was we were going to close then but we got another group of students to graduation. That came from a lot of hard work and dedication and a focus on the reason that we do this every day, that is to bring students to graduation and complete their degrees."
A year ago, CSJ faced possible closure because of financial shortcomings. There were several contentious meetings on campus as students, staff and faculty learned about the problems for the first time.
In May 2018, the board of trustees voted not to close the college. Scott was hired early that summer, and set out to attempt to right the ship. The New England Commission of Higher Education (NECHE) announced in March that CSJ would lose its accreditation by the end of the current school year unless the school's financial viability could be demonstrated.
Efforts were made to find a partner or another way to keep CSJ open but by March, Scott announced those efforts had fallen short and CSJ would close when the school year ended.
David Balfour, vice president for academic affairs at CSJ, said he hopes people will not be overwhelmed by the end of the college and miss the celebration of commencement.
"Despite the way it's ending, this has been a good story. I think that's what we need to keep in mind. I think we've done a lot of good for a lot of students and the students have done a lot of good for us. Working with them has been great," he said.
Scott said she is trying to be sensitive to the challenge faced by the staff and faculty who are participating in commencement but also losing their jobs.
"I can't even begin to know the depths of that loss for them. But what I have seen is their spirit and their commitment to the college this year, their commitment to students, their commitment to each other and through the disappointment, there's still a lot of joy and camaraderie and reflection and celebration," she said.
patrick.mcardle
@rutlandherald.com