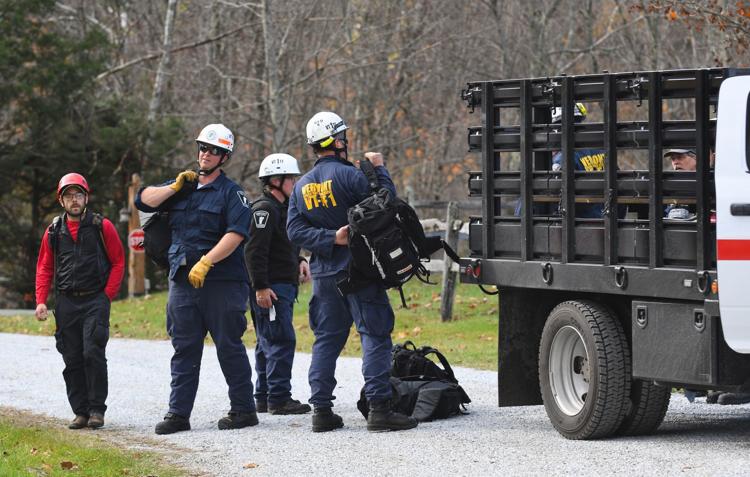 PITTSFIELD — While it served as the focal point for a statewide, multi-agency disaster drill held Wednesday, the Town Office needs some work before it can be considered an official hub for communications during a real emergency.
"That building has got some issues," said Select Board Chairman Charles Piso, who was working to coordinate the town's response to a simulated disaster. "We had some issues during Town Meeting. It's closed right now. The chimney fell off, it failed a load test, it's got some other problems. With that, we lost our primary shelter location, so part of the exercise (Division of Fire Safety) is coming down to help us evaluate and tell us where the shortfalls are in this building that have to be addressed to make it a shelter."
He said the town already knows the Town Office needs a backup generator. The Planning Commission is busy researching grant opportunities for that.
Wednesday's drill will run into Friday, but the physical portion of it was to wrap up Wednesday in Pittsfield. The drill involved about 80 people simulating a major flood, one that washed away several houses and left between eight and 10 people unaccounted for.
Piso said the drill is meant to simulate what happened during Tropical Storm Irene in 2011 that saw several houses washed away, though no people. The town's role in this simulation, as it would be during a real disaster, is to set up its own "emergency operations center" or EOC, which had been the Town Hall until it was closed earlier this year, but is now the adjacent Town Office.
In a real disaster, Town Clerk Trish Fryer's job is to establish the town's EOC and contact the state EOC. Fryer said for this drill, she contacted the state EOC at 8 a.m. and told it the town has set up its own EOC, has limited communications and can't account for between eight and 10 people.
"She took all that info from me and has been calling me back periodically," said Fryer.
In a disaster, the town EOC acts as a hub for information, said Piso. It reports missing people to rescuers and tells said rescuers if those gone missing have since been located or reported safe.
Not far from the Town Office, at Riverside Farm, personnel from state and local rescue agencies were preparing to search the banks of the White River for survivors or bodies. Rescuers have several tools to do this, dogs being among them.
Michael Cannon, head of Task Force 1 Swift Water Rescue, which is part of the state's Division of Fire Safety, was telling a group of people who'd volunteered to be flood survivors what to expect when the search dogs find them.
"They'll want to get a reward immediately once they find you," he said. "Once a dog comes over, he's going to start yipping and barking and trying to get into you. It's OK to pet them. They're going to want a toy, which you're not going to have, the handler will have the toy, but they're going to go crazy around you, they're not going to bite you. They're going to lick you to death, probably."
This prompted several cries of "yay" from the volunteers, who planned to hide along the river bank and cover themselves in debris to simulate people trapped in washed-out houses.
"We've got four dogs, they're all live-find, they only look for people hidden," Cannon told the Herald. "They don't do wilderness searches, but in this case we're simulating buildings that have been destroyed, so we're assuming they're going to be in rubble."
He said mannequins are being used to simulate dead bodies. They were placed near the river on Tuesday for the dogs to find.
"We've also got drones the Department of Public Safety purchased," Cannon said, adding that they're fairly new additions to the department's toolbox. One was used Monday to search part of the Lamoille River for a person. The person was found by a boat in an area where the drone hadn't been used. Cannon said the drones can quickly cover a wide area and can search dangerous places.
Piso said this drill was in the planning stages for about a year and was still being worked on in mid-April when a rainstorm washed out several major town roads, creating a situation similar to today's drill, minus the missing people. The real disaster, he said, was also instructive.
"We found some shortfalls in April," Piso said. "One of them was communications between the fire department and the Town Office."
He said many of the issues from the April storm have been addressed and the Federal Emergency Management Agency (FEMA) has covered most of the damage done, which would have placed a significant burden on the small town's finances.
Taking part in Wednesday's drill were the Department of Public Safety, Vermont Emergency Management, the town of Pittsfield, Vermont's Urban Search and Rescue Team, Killington Search and Rescue, Division of Fire Safety, Bethel's swift water rescue team and Pittsford Fire and Rescue.
According to Mark Bosma, public information officer for Vermont Emergency Management, about 500 emergency responders from 19 cities and towns, accounting for 20 state and volunteer agencies, are expected to participate in the three-day exercise, simulating a Tropical Storm Irene-like event. The Agency of Transportation will participate as well.
keith.whitcomb
@rutlandherald.com