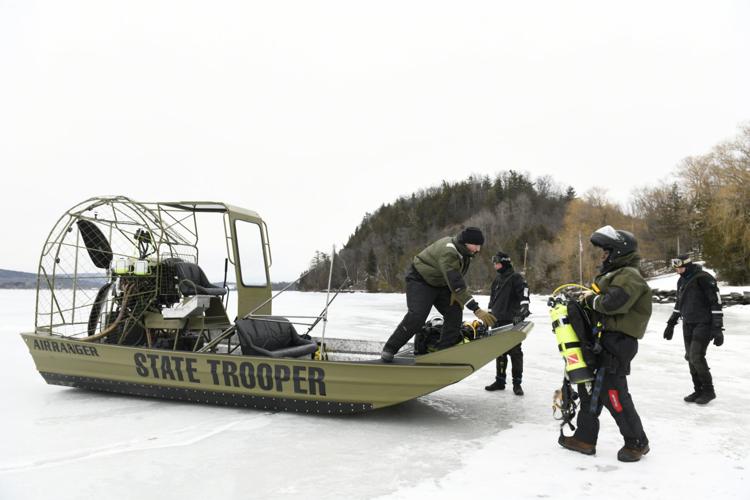 BENSON — State Police were still searching Tuesday evening for a Benson man who disappeared after setting up his ice-fishing equipment Monday night. While his vehicle was found submerged in about 22 feet of water late Tuesday afternoon, first responders and police dogs could not find the man and suspended operations for the night because of a snowstorm.
Sgt. Chris Scrodin said State Police are working as quickly as they can.
"Plenty of (local) folks are trying to help," Scrodin said.
At around 7:13 p.m. Monday evening, Marsha Wiktorski began to worry when her husband, Lee Wiktorski, 61, didn't return home from his ice-fishing trip on Lake Champlain.
"Out there is a fishing sled, tip-up, fishing poles and an auger," said Scrodin, of the New Haven Barracks, who added he'd been on patrol on Singing Cedars Road since 5:30 a.m. Tuesday morning. "It kind of looks like he drilled a hole, set up the tip-up, put the bait on it ... it looks like he set them up, but not completely ... like he didn't finish, for some reason."
Scrodin said there are vehicle tracks both onto and off of the ice, and there can be anywhere between 1 inch and 10 inches of ice in some places.
At around 1:30 p.m. Monday, Scrodin said, a firefighter in Benson said he saw someone matching Wiktorski's description inside a silver 2001 Dodge Dakota truck driving down to go fishing, something that locals told him happens often.
"My understanding is out here, sometimes there's plenty of ice," Scrodin said. "But in some cases there's only a couple of inches."
Wiktorski's tip-up was set up a fair distance from the shoreline, Scrodin said.
A search effort overnight included multiple first responders on the ice in the vicinity of Singing Cedars Landing, and support from a helicopter crew from the U.S. Coast Guard based in Cape Cod, Massachusetts.
"They flew until they had to go for fuel," Scrodin said. "They walked from Buoy 39 up on Chittenden Point, they set flares off."
Efforts were expanded Tuesday to include the Vermont State Police Dive Team and two airboats, along with an aircraft from U.S. Customs and Border Protection.
In addition to the above agencies, assisting in the search are Vermont Department of Fish & Wildlife game wardens, Benson Fire/Ice Rescue, and the U.S. Coast Guard, according to police. Despite the frigid temperatures, scuba teams were dispatched to help.
In an update shortly after 7 p.m. Tuesday, police said sonar had picked up a target in the water and dispatched divers to the scene. Though the divers were able to find Wiktorski's vehicle, the truck was empty and Wiktorski was not found.
The search is expected to resume when conditions permit Wednesday, police said.
"We're talking minutes," Scrodin said. "Once you're wet, it's minutes."
Anyone with information about Wiktorski's whereabouts is asked to call the Vermont State Police barracks in New Haven at 802-388-4919.
katelyn.barcellos
@rutlandherald.com