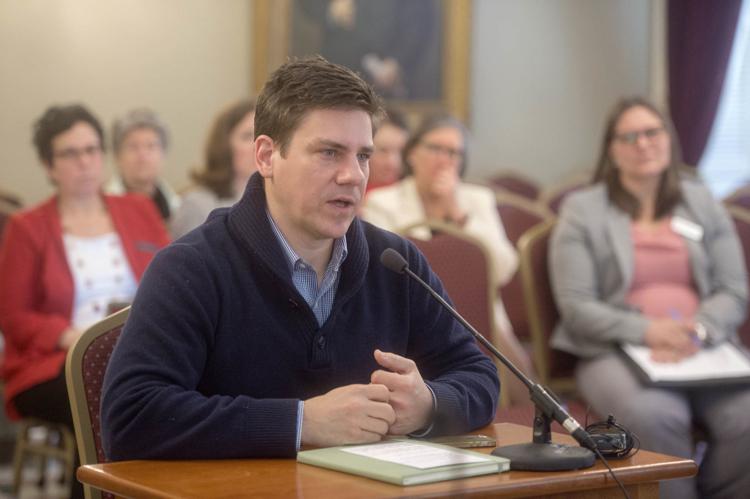 MONTPELIER — Doctors, advocates and opponents testified Wednesday before the Senate Health and Welfare Committee on H.57, a bill that codifies a woman's right to an abortion in Vermont.
"The incendiary language used by our opposition is newsworthy in a headline-driven environment," said Meagan Gallagher, CEO and president of Planned Parenthood of Northern New England. "It catches attention and builds a rhetoric that is not grounded in the reality of peoples' lives."
Sharon Toborg, of Vermont Right to Life, said the bill allows for what she called "unlimited, unregulated" abortion throughout a woman's pregnancy, including partial-birth abortion, and prevents public entities from weighing in.
"Abortion advocates have stated repeatedly that abortions done later in pregnancy are only done for reasons of fetal abnormality or maternal health," Toborg said. "This is simply not true."
Toborg cited the Partial-birth Abortion Ban Act as evidence that late-term abortions occurred, and referred to an article from the Bergen Record of New Jersey that reported 1,500 partial-birth abortions occurred every year.
"For the abortion-rights movement, unrestricted abortion rights throughout pregnancy is not a philosophical problem," Toborg said. "It is a public-relations problem."
Gallagher said her organization provided contraception to 9,600 patients, almost 4,800 pregnancy tests, almost 2,500 cervical cancer screenings, more than 3,500 breast exams, more than 37,000 sexually-transmitted infection tests and about 1,100 abortions in 2017.
Gallagher said the majority of Americans are supportive of her organization. She said "a lie makes its way around the world while the truth is putting its shoes on," referring to the spread of misinformation regarding abortion.
"For many patients, PPNE is their only provider," Gallagher said. "The decision to have an abortion is personal, and only the person who is pregnant can decide what is best for them … many women of reproductive age do not know what their health care will look like if, and likely when, Roe v. Wade is overturned."
For Brooklyn native Garin Marschall, having an abortion was a necessary hell: after his wife's first pregnancy ended in miscarriage, they became pregnant again and ended up having to travel hundreds of miles to Colorado where they spent thousands of dollars for a late-term abortion.
Little warning signs became troublesome, Marschall said, and at the 30-week mark, an excess of amniotic fluid was found during one of their weekly ultrasounds.
"That meant the fetus couldn't swallow," Marschall said. "That indicated it wouldn't be able to breathe outside the womb."
Because of the law in New York at the time that prevented an abortion after 24 weeks unless it threatened the life of the person, the couple had two options: carry the pregnancy to term, or leave the state and seek help elsewhere.
The late-term clinics, he said, were few and far between and rarely get reimbursed for services by health care insurance providers, which meant they had to borrow money to pay the $10,000 abortion fee up front, a sum they had to acquire in two weeks time.
Though they received the treatment they needed, Marschall's wife still had to be induced and endure 30 hours of labor.
"They're always a complicated situation," Marschall said. "It's not an easy procedure. It is not a frivolous thing that someone would enter into. It's not cheap. The rhetoric that we're hearing about these procedures doesn't match patient experiences."
Cary Brown, executive director for the Vermont Commission on Women, said family planning and the ability to choose was directly tied to higher earnings and more economic, educational and occupational opportunity.
"Every woman has a natural and unalienable right to choose when to bear children," Brown said. "Women earn 3% more for each year they delay having children … the most common reason women give for seeking an abortion is that they are not able to afford the cost of having a child."
Brown cited studies reporting half the women nationwide seeking abortions are below the federal poverty level, and women denied an abortion are more likely to end up raising a child in a single-parent household.
Jessica Barquist, the new director of policy and organizing for the Vermont Network on Domestic and Sexual Violence, said women were at the greatest risk of violence from their intimate partner during their reproductive years, and reproductive and sexual coercion was a frequently overlooked form of abuse that the right to an abortion helped to free women from.
"Women with unintended pregnancies are four times more likely to experience intimate partner violence," Barquist said.
Dr. Erica Gibson, director of adolescent medicine at the University of Vermont Children's Hospital, asserted that the availability of confidential health care encouraged trust between health care workers and patients.
"Only 3% of abortion patients are 15 to 17 years old," Gibson said. "Most minors faced with an unplanned pregnancy will voluntarily disclose to a parent or trusted adult."
But many times, young people hide their pregnancies out of fear or shame if they are mandated by state laws to inform an adult of their pregnancy in order to obtain abortion, Gibson said.
Chloe White, assistant director of the American Civil Liberties Union, reminded the panel that Justice Brett Kavanaugh recently expressed dissent in the case "June Medical Services v. Gee," a decision that blocked a law that would have closed most abortion clinics in Louisiana. Justice John Roberts was the swing vote.
Kentucky, Mississippi and Ohio have signed "heartbeat" bills into law restricting abortions after six weeks, and a bill was recently proposed in Texas that would sentence women who procured abortions to death.
"At least nine states have statutes explicitly protecting the right to an abortion," White said. "Vermont should join these states and enshrine the protection in statute."
katelyn.barcellos
@rutlandherald.com