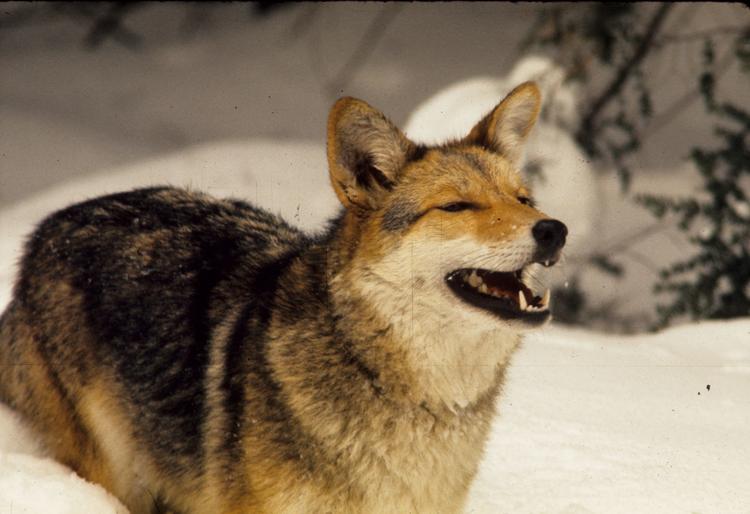 SALISBURY — An elderly couple in Salisbury was attacked and bitten by an Eastern coyote at their farm Monday morning.
Priscilla and George Gilman were treated at Porter Medical Center in Middlebury for bites from the coyote. Priscilla Gilman was bitten on the right forearm and left leg, and George Gilman was bitten on the right leg.
The couple was treated Monday, and later received the first of four rabies shots at the Middlebury hospital. Vermont Game Warden Dale Whitlock said it was very likely the coyote, estimated at about 40 pounds, was rabid.
Vermont Fish & Wildlife Commissioner Louis Porter said Tuesday the state Department of Health has not yet determined whether the attacking coyote was rabid.
Priscilla Gilman, 76, said in a phone interview the coyote "just came out of nowhere" as the couple left their barn and headed back to their house, which they have owned for 50 years.
"It attacked and kept going at both of us," she said. "My husband kicked him in the head, and the coyote would back up and lunge at us again. He went for my husband's throat and bit me in my arm and leg. I was just trying to get away and keep him from killing us. My husband kicked it and said, 'Head for the house.' We took off, and my husband was behind me."
George Gilman, 79, grabbed his shotgun and headed back outside to deal with the coyote.
"We have a horse and a barn cat we take care of," Priscilla Gilman said, "and my husband wanted to make sure that coyote was dead so he wouldn't bite somebody else."
George Gilman spotted the coyote and yelled out to get its attention. The coyote charged again: "The coyote put his mouth right over the barrel of the gun and then he let go and my husband just shot him, right there," his wife said.
It was Whitlock's day off, but he rushed to the scene when he learned of the attack. He took possession of the coyote and sent it to the Health Department for testing.
The coyote had the "faint odor of a skunk to it," Whitlock said, adding that could mean it was bitten by a rabid skunk. Skunks and raccoons are the most common carriers of rabies in Vermont.
Coyotes are shy, nocturnal canines with a reputation for avoiding humans at all costs. Rabid animals often act strangely and aggressive.
Mark Scott, director of wildlife for Fish & Wildlife, said this would be the first report of a rabid coyote ever documented in Vermont should the test confirm rabies.
Whitlock, a 23-year warden, had never heard of a wild coyote attack in Vermont and called this "extremely unusual behavior."
Priscilla Gilman said it wasn't bravery that served the couple on Monday: "We were just trying to save our lives," she said. "The adrenaline just kicked in."
The Gilmans often see coyotes around their farm, but never in the daytime, and the animals always run away when they spot humans, she said.
Coyotes can be hunted year-round in Vermont, even in the hours of darkness by hunters without the use of artificial light. That makes the attack even more unusual, Porter said.
"I should add," he said, "that coyotes are amazing animals and fulfill an important role in our ecosystem."
Later Tuesday, Scott went deep into Fish & Wildlife files and noted three past instances where coyotes attacked Vermonters, all of whom were hunting at the time.
A bow hunter in Proctor was attacked on Oct. 5, 1991. The coyote held onto the victim's leg and tore his clothing, then followed the hunter as he walked to his truck. Several coyotes were reported in the incident. There were no reported injuries.
A few days later, a bow hunter in Baltimore encountered several coyotes while walking through the woods. The hunter suffered puncture wounds to his arm, then ran to safety and later received rabies treatment.
In Chester, a spring turkey hunter was attacked by a coyote early in the morning on May 23, 2004. The hunter had five puncture wounds in his facial area and received six stitches to his forehead and the bridge of his nose. He described the coyote as a 35- to 40-pound healthy animal. There is no report of whether the victim received rabies shots.
None of the coyotes in the three attacks were isolated or shot, so the state couldn't determine whether they were rabid.
A fourth account didn't involve an attack, but Scott said it was nevertheless "significant." A photographer in West Dover was chased by a coyote on July 22, 2008, and there were several more accounts of an aggressive coyote, including one involving a jogger, in the same area.
Whitlock, a game warden based in East Middlebury, was extremely impressed with how well the Gilmans reacted to what was clearly a traumatic event.
"They are the salt of the earth," Whitlock said. "So non-dramatic. They are just awesome people."
Priscilla Gilman said that she will not let the attack deter her from her farm life or activities.
"We're not going to stay in the house and be scared. We walk a lot. I do a lot of hiking. I just hope we never run into something like this again," she said.
Porter said while there's no need for alarm, people should take precautions around wild animals.
"Avoid approaching wildlife of all kinds, particularly if the animal seems ill or is acting strangely," he said. "These incidents do happen on occasion in other states but are very rare in Vermont."