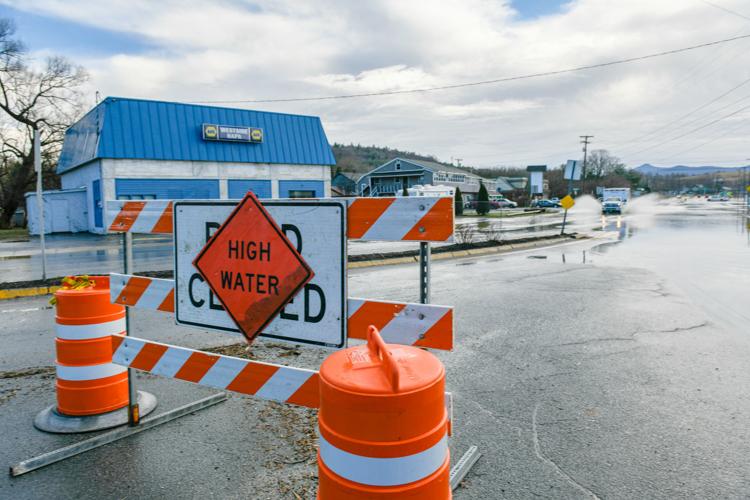 The state is collecting information from municipalities to determine whether the state is eligible for federal disaster funding.
Mark Bosma, public information officer for the Vermont Emergency Management Agency (VEMA) said staff from his agency weren't in the field Tuesday but had been in contact with the counties' regional planning commissions to get a damage assessment.
There would have to be $1 million in damage for the state to apply for the emergency declaration, Bosma said.
He said town officials and property owners should report any damage to their regional planning commissions.
Bosma said he expected the state to know today whether it could apply for disaster funding.
Robert Haynes, a meteorologist at the National Weather Service's Burlington office, said Rutland County got about an inch of rainfall in the storm that caused many instances of flooding on Monday. Some areas of the county reported about 2 inches. Washington County saw a little less with almost 1 inch in most areas but up to about 1½ inches to 1¾ inches in some spots.
While there was no serious rainfall on Tuesday, the storm's effects were still seen. The state reported around 6:45 a.m. Tuesday that Union Street and Pearl Street in Brandon were closed due to high water; around 7 a.m., that West Creek Road in Pittsford between Depot Road and the border of Proctor was closed because of flooding; and around noon flooding had closed Long Swamp Road in Brandon.
Gov. Phil Scott is scheduled to tour flood-damaged areas in Pittsfield today.
Some are still recovering from the flooding. Laura Conte, marketing director for the Mountain Top Inn and Resort in Chittenden, said employees did not lose access to the buildings and hadn't closed because of the rain even though Conte said the town's roadways were hit pretty hard.
"We did have some water that came through our event barn. We're working with our contractors to clean up and assess at the moment," she said.
Conte said the inn, which has been in business since the 1940s, had an event planned for this weekend, but staff members are working together in an "all hands on deck" manner to be sure they are ready to accommodate visitors.
"It was a bit of a surprise, that storm, in terms of the impact that it had," Conte said.
According to Conor Lahiff, also a meteorologist in Burlington for the National Weather Service, the state doesn't have to brace for an immediate repeat.
While "pretty insignificant rain" is expected tonight into Thursday morning, Lahiff said the next big rain event could be during the weekend.
"More significantly, there will be a system that leads into the weekend. We are talking Friday night through the Sunday time-frame. Given that's several days out, it's really hard to pinpoint exactly where the heaviest rainfall is going to occur … but somewhere across our area is likely to see a big dose of rain which will affect the swollen rivers, some of which did hit flood stage or flooded over in the last couple of days," Lahiff said.
Because there were thunderstorms from Sunday into Monday, the rainfall was heavier than it might have been in Rutland County, he added.
Lahiff said the rain Vermont is experiencing is fairly typical for this time of year.
The rain will also mean mud. On Tuesday, a release from the Green Mountain Club, the Department of Forests, Parks and Recreation and the Green Mountain National Forest asked Vermonters to respect trail closures and advisories during mud season.
"Even though it might feel warm and dry at your house, the trails at higher elevations are still very wet and vulnerable. It can take hours for a volunteer or trail crew to fix what takes just moments to damage by hiking on muddy trails. In between spring showers, we are all ready to hit the trails after a long, cold winter. Saving your mountain hikes until the trails are dry will ensure a better, longer hiking season for all," said Jessica Savage, Forests, Parks and Recreation's recreation program manager, in a statement.
patrick.mcardle
@rutlandherald.com