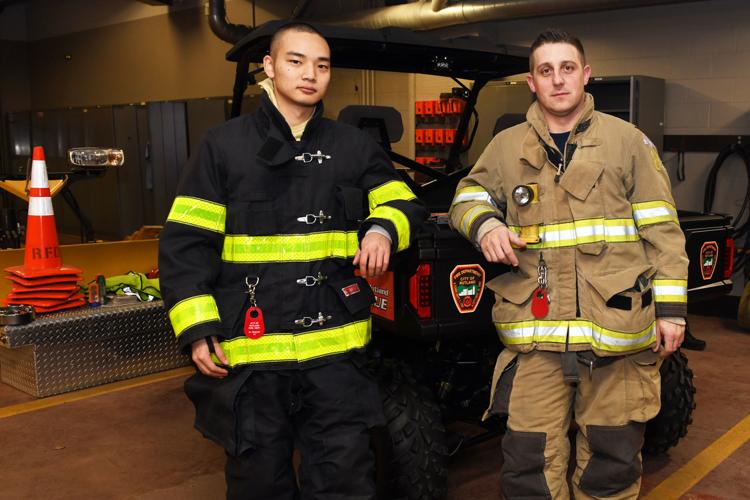 For years, according to Chief James Larsen, the city held off on replacing equipment for firefighters in order to pay for firetrucks.
That's changing, Larsen said this week, with Rutland City approving the replacement of a wide variety of long-outdated items, but the trucks still need replacing, too.
"We have a tower ladder truck that is well beyond its expected life," he said, referring to a 1986 vehicle — tower ladders have an elevated platform similar to a cherry-picker. "Typically, we like to replace those every 20 to 25 years."
Asked how the 32-year-old tower ladder truck was working, Larsen smiled and paused.
"It's been out of service for its annual inspection for several weeks," he said. "The problem is, it's so old that no one stocks the parts. We have some front-end and tie-rod work that had to be done and those parts have to be manufactured because no one makes them for it because it's so old. ... Our tower ladder is the only remaining one in Rutland County."
Larsen said the city is waiting to hear on a $1 million federal grant application, but even if the city gets the $1 million — the most the feds will give a municipality for a piece of fire equipment — the city will still have to come up with $300,000 to $500,000 to cover the remainder of the truck's cost. After that, he said, the department will have a few years' respite, but not many — the ladder truck is due to be replaced in 2026 and Engine 3 reaches the end of its life expectancy in 2030.
While firetrucks are large single expenses, plenty of other pieces of fire equipment can add up quickly. New turnout gear for the department — the pant-and-coat combos worn while fighting fires — purchased earlier this year cost a total of $68,000. Larsen said the outfits had a 10-year lifespan — it's been 14 years since they were last replaced — and that they had greater implications for firefighter safety than people might realize.
An extensive study published in 2013 by the Centers for Disease Control and Prevention found that firefighters suffered from an increased incidence of a wide variety of cancers. In particular, it found firefighters were twice as likely to develop mesothelioma, a cancer associated with asbestos exposure.
"We are exposed to very harmful products of combustion," Larsen said.
Those substances need to be kept not just out of firefighters' lungs, Larsen said, but off their skin, and the protective outfits need to be washed frequently and thoroughly.
"The good news is, we have the equipment to launder it," he said. "The bad news is, every time you launder it, guess what happens to the gear. The protective qualities start to diminish over time."
The air bottles for the department's breathing gear can no longer be certified after 15 years, Larsen said, and half of the 80 packs the department keeps on hand are up for replacement this year at a cost of at least $1,000 each.
In the proposed FY '20 budget, Larsen intends to buy new radios. He said the ones the department has are like those used on construction sites, but firefighters benefit from more rugged radios that are more heat-resistant and less likely to break if dropped.
"Accidents happen in public safety," he said. "People fall through floors, things are dropped. You need equipment that can withstand it. ... Of course, all that comes with an increase in cost. Today's portable radios are in the $5,000 range."
In the early 2000s, the newly created Department of Homeland Security handed out grants left and right so fire departments could buy thermal imaging cameras. Those, which have a $10,000 price tag, have started to wear out. Larsen said the city has replaced one already.
"We have one that's original to the grant," he said. "We still use it, but the technology has changed. ... You can't buy everything you need in one fell swoop."
So how do you juggle all that?
"I guess what you do is you sit down, and you make a plan," Mayor David Allaire said.
Allaire said an increase in the equipment fund and a renewed attention to equipment other than trucks was going a long way, but the trucks themselves were going to prove tricky. He said he hopes the city will be able to rely on grants to a significant extent, and he was not sure if voters would be ready to bond for fire trucks if it came to that.
gordon.dritschilo @rutlandherald.com