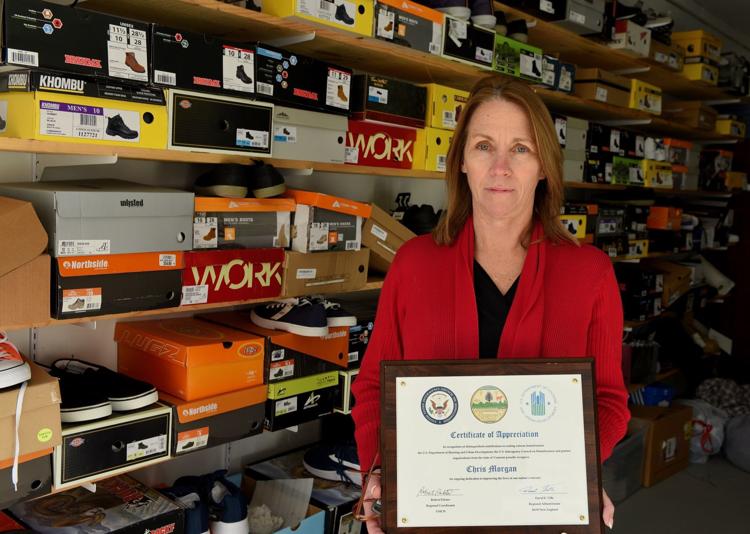 An employee of the veteran-assistance organization known locally as the Dodge House was recognized this year by the federal government for her work to end homelessness among veterans.
The certificate was given to Christina Morgan, who is not a veteran herself but takes her responsibility to those who have served very personally.
"There's been some veterans in my family but more to me than that is there's that real meaning behind those magnets that you see that say 'Welcome home veterans' or 'Support our troops.' That really means something to me. That really means an action to me. What are we going to do about it? How can we help our veterans? The Vietnam veterans who were a part of making this place possible, their motto was to improve the life of a veteran in any way that we can. I try to remember to do that every single day," she said.
The United States Interagency Council on Homelessness and the U.S. Department of Housing and Urban Development issued the "Certificate of Appreciation" to Morgan, who is not only an employee at the Dodge, which is the headquarters for the Veterans Assistance Office on Crescent Street, but the only employee.
Morgan, the executive director of the Veterans Assistance Office, or VAO, said the primary function of the Dodge, which has five beds for men and three for women, is to provide transitional housing for veterans.
"We don't really like to be considered a shelter. That's part of what's offered. But veterans who come through here really have to have a plan and a program," Morgan said.
That plan can change depending on the veteran's needs. One current resident will likely transition to hospice while another had stayed in the building for about a year but was expecting to move to permanent housing by the end of the year.
Morgan, who has been with the VAO for about 14 years, most of it as the leader, said transitional housing is only one of the services provided by VAO.
"Veterans can come here for anything, even if they don't need shelter. We have veterans that come here for bags of food, for shoes. We have veterans that come to watch TV. We have veterans that come use the computer. Sometimes we have veterans that maybe need assistance getting a DD 214 (a document that provides proof of the veteran's service) or a ride to the VA. It's kinda whatever it is I can do, wherever I can jump in and help," she said.
While the VAO is not part of the VA, the federal Veterans Affairs program, she said they have a strong working relationship that allows them to work together in meeting needs for veterans.
"Could not ask for a better network," she said.
Morgan said one of the values of the certificate she was given at a New England conference in August on ending veteran homelessness was that it recognized the importance of the ongoing need to meet the needs of the men and women who served in the military.
"I wasn't expecting it. … I have a really hard time with this because I feel like there are so many people around me that are in this to end it. I feel like there are a lot of folks who deserve this award," she said.
Among the allies are the Castleton Elementary School which raises money for veterans every year and the Sons of the American Legion throughout Vermont which has been the Dodge House's primary sponsor.
Morgan said she was particularly proud of the Shoes for Veterans program which has been supported by the "Vet Net" employee team at Comcast.
Sean Sexton, director of project management for Comcast's Western New England region and one of the leaders of the VetNet team, said the team works with a lot of Comcast employees who are veterans but also reaches out to see how they can assist community organizations.
"The Dodge House really fits into our wheelhouse as a great group," he said.
During a Comcast Cares Day, when Comcast employees work locally with a service organization, they spent some time at the Dodge House.
"About two or three years ago, we called Chris up again and just asked the question. 'Listen, a lot of people say what they're going to do for you, I'm just gonna ask you the question of, what is it that we can do for you that you feel is a need at your current location?' She talked about the fact that (what) she wanted to do (was) if any veteran came in and needed shoes, she would be able to give them shoes," he said.
The first year, Comcast provided about 150 pairs of shoes and boots, with socks, and in the second year, they provided about 250 pairs of footwear.
Sexton said the group was looking forward to starting their 2019 campaign.
Morgan said the VAO also takes pride in serving veterans through voluntary donations and hasn't approached the city about getting a place on the ballot for funding.
"We want people to be willing to donate and not forced," she said.
After 14 years, Morgan said there are several factors in what keeps her involved. Part of it is her respect for the veterans but she also said she understood what it's like to need assistance with food and housing.
"There's not a veteran who's ever been through here that I don't know. No veteran who's ever been here, I've not ever forgotten them. … I could tell you a story about every veteran that's been through here. They just mean something to me, y'know," she said.
The VAO was created in 1990 and the Dodge house officially opened in 1998.
patrick.mcardle
@rutlandherald.com