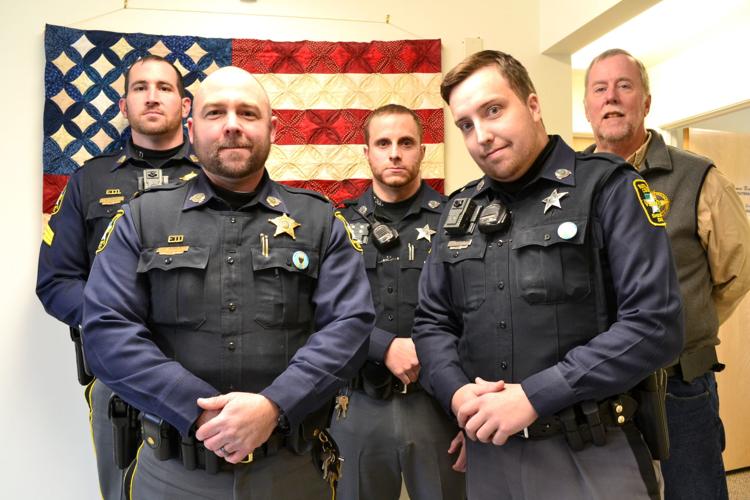 Members of Vermont's police and sheriff's departments will be showing off stubble this holiday season as part of the Beards for Kids with Cancer initiative created by the Middlebury Police Department in 2015. The initiative benefits Camp Ta-Kum-Ta in South Hero, where children who have or had cancer go to have fun for free.
And this year, the Rutland County Sheriff's Department is growing it out, too.
"In law enforcement, typically you don't see a lot of facial hair," said Deputy James Bennick. "It allows us to do something unique for the kids."
So from Nov. 1 to the end of December, 18 of the deputies at the Rutland County Sheriff's department will join numerous other departments in looking a little furrier on patrol.
By making a cash donation to the camp, each officer is permitted by their superior to abandon the normal shaving standards for several months.
They'll also have bearded buttons: every participating officer will be donning a pin with a bright yellow cancer ribbon and a long beard on it as a show of solidarity.
"These kids have this disease. They really can't control it," Bennick said. "With all of the treatments they have to go through, I can't imagine .... More people need to know about this camp."
Hattie Johnson, executive director at Camp Ta-Kum-Ta, said the charity raised $2,000 in its first year and $3,000 last year.
"Every donation helps," Johnson said. "It gives the child some of life's most precious gifts: freedom, joy, the ability to be a kid."
Johnson said 75 children and their families come to the nonprofit camp year-round for everything from cross-country skiing and ice skating in winter to swimming and campfires in summer. Programs take place every month.
"In January, we have a winter weekend for our middle campers," Johnson said. "Then the youngest come, and then the oldest. In April, we do our moms retreat."
As the camp operates entirely from donations, charities like Beards for Kids with Cancer are invaluable to providing the campers with a mixture of activities and some special once-in-a-lifetime experiences, Johnson said.
"The number of children diagnosed is not decreasing," Johnson said. "We have a slogan: until there's a cure, there's camp."
Officer Darrin Hinterneder, of the Middlebury Police Department, said the idea all started with "no-shave November" three years ago.
"We have a policy here: We can't have facial hair below the upper lip," Hinterneder said. "And we have a bunch of us that like to deer hunt, so this was our own spin on it."
Hinterneder said Chief Thomas Hanley liked the idea, and originally called the fundraiser "Deer Camp Beards for Kids with Cancer," after choosing Camp Ta-Kum-Ta as the charity benefiting from the police department's new grooming standards.
"This coincides with deer season," Hinterneder said. "So we began growing beards Oct. 6, and we're keeping them until the day after Christmas."
This year, 14 Middlebury officers are stopping the shave.
"Last year, we raised $2,002 dollars," Hinterneder said.
"We decided to jump on board with him," said Lt. Peter Newton, of the Addison County Sheriff's Department. "We sort of half got on board with it last year .... Pretty much the whole department is participating this year."
Newton said 12 deputies are retiring their razors for the holiday season.
"I know we'll be close to $500, but I'd like to see us closer to $1,000," Newton said.
Middlebury spread the word to other departments throughout the state and officers jumped at the chance to do what they could.
"Well, there's four of us here, and we're all participating," said Bristol Police Chief Bruce Nason. "We're following their lead. We'll raise as much as we can."
Though only one Bellows Falls Police Officer is participating, officer Joshua Paulette has already raised $45 for the camp.
Bennick said their department is already making a major dent in their target pool.
"Our goal is to raise $1,500," Bennick said. "So far, we've raised $1,050."
Though the Rutland deputies are all enjoying their break from the beard trimmer, once Christmas is over it's back to bald, Bennick said.
"I'd never wear a mustache," Bennick said. "I'd look too much like my father."
katelyn.barcellos @rutlandherald.com