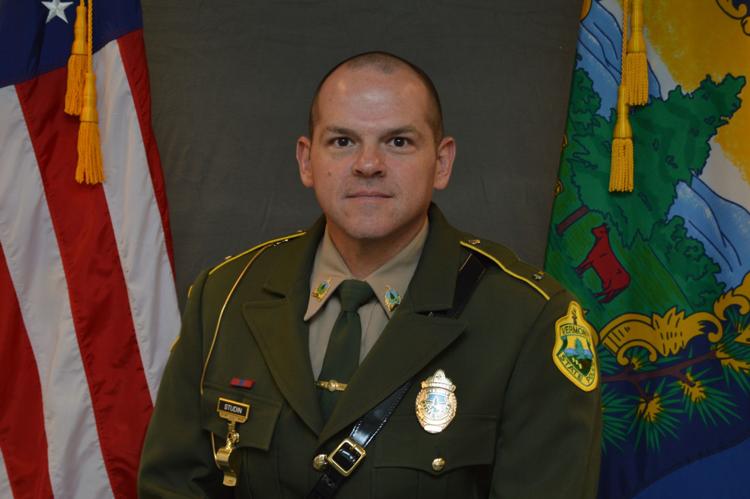 MONTPELIER — A former station commander for Vermont State Police in Rutland County, who was permanently removed from his post last March, demoted and given a new job, is appealing the discipline the department imposed on him for mishandling trooper wrongdoing.
The case centers on the response by former Lt. Michael "Stu" Studin when told two troopers from the Shaftsbury barracks had failed to investigate a new Rutland trooper for suspected driving while under the influence in October 2018, state records show. He was put on paid leave while the case was investigated.
State Police in March 2019 eventually issued Studin two concurrent 10-day suspensions, a demotion to detective sergeant, a reassignment to the Royalton barracks as a criminal investigator and added a letter of reprimand to his personnel file, the records show.
Studin, who lives in Chester, is asking the Vermont Labor Board to reinstate him as a lieutenant, award him all money lost during both his suspension and while working at his reduced rank, and also asked that all mention of the suspensions, his demotion and reprimand be removed from the file.
The Labor Board is due to begin hearing Studin's appeal Thursday in Montpelier.
The case began to unfold when an off-duty probationary trooper from the Rutland barracks was discovered passed out at the wheel of his private car behind the Cumberland Farms store on Northside Drive in Bennington about 6:30 a.m. Oct. 28, 2018, officials said.
State Troopers Thomas Stange and Benjamin Irwin, both assigned to the Shaftsbury barracks, were at the Bennington convenience store for another incident and were asked by a store manager to check on the unresponsive driver that turned out to be off-duty Trooper Spencer Foucher, records show.
Foucher, who was a member of the Vermont National Guard, had failed to appear for his State Police work shift, records show. Foucher later reported that he had become confused about his work schedule, a State Police report indicated.
Studin in his labor board appeal noted "the troopers who discovered him did not investigate suspicion of driving while under the influence."
In his appeal, Studin said when he was notified about the case, he instructed the patrol commander in charge of the shift to document the trooper's absence from his job, "but suggested he did not include any information about the 'alcohol aspect' until Grievant had a chance to speak with his captain about it the following morning, which was Monday Oct. 29. 2018."
State Police, in its written response, maintains Studin "told" the patrol commander to avoid "any information about the 'alcohol aspect'" until his captain could be consulted.
Capt. Roger Farmer, the Southern troop commander, ended up calling Studin to learn more about the incident, records show.
State Police Director Matthew Birmingham later wrote in part in a suspension memo that "in light of serious and credible allegations of misconduct and/or improper conduct on your part, and out of concern for the safety and welfare of the Department and others, you are hereby suspended from duty with pay per order of the Commissioner of Public Safety, Thomas D. Anderson."
Studin joined State Police on July 14, 2003. He later became a senior trooper and was promoted to patrol sergeant at the Rockingham barracks March 24, 2013. He was promoted to lieutenant and named station commander in Rutland County on Sept. 4, 2016.
Studin, in his union grievance, maintains he was briefed by a subordinate about the missing work shift and that Fulcher was found sleeping in his car outside the store.
A store manager arriving for work called Bennington Town Police to report the sleeping man with the seat down, according to an audio recording from the dispatch center.
"There's a car parked behind our building with a man seemingly passed out in the car, seat reclined all the way back. The car is running and the windows are up," the manager tells the police dispatcher on the recorded call. He says he has no idea how long the car and driver have been there.
The manager notes, "There are State Police outside and I have notified them, but they are actually here coincidently looking for someone else. And I believe he was going to go around back and take a look, but he told me I should still notify local police."
The Bennington emergency dispatcher alerts Officer Derek Osgood about the complaint, but Trooper Irwin, whose radio number is 455, overhears the call and says:
"Myself and 437 (Stange) just checked on that subject. He's fine."
Osgood responds, "10-4 — Thank you," according to the audio recording of the call. The Bennington officer cancels his response to the store.
The store manager, in a State Police report, indicated that the passed-out driver and car remained there for a few more hours.
Stange and Irwin also were placed on paid leave following the incident. They remained on paid leave for 17 weeks and eventually returned to work Feb. 25. Because most State Police discipline is confidential, it remains unknown if any action was taken by management.
State Police records show they later attempted to reconstruct Foucher's activities from that night to determine if he should face a DUI charge.
Bennington County State's Attorney Erica Marthage later said based on the report provided by State Police there was not enough evidence to file any criminal charge. She said the two troopers never requested a breath test from their colleague.
Stange has worked for State Police since July 16, 2012, while Irwin was hired July 10, 2017.
Foucher resigned on Oct. 29, one day after the incident at the store. Foucher, who joined State Police Jan. 16, 2018, grew up in Bennington and was a wrestler at Mount Anthony Union High School.
Studin maintains his demotion, suspension, transfer and letter of reprimand are not supported by just cause under the union contract. He claims the department also bypassed progressive discipline under the contract.
Studin has at least one earlier high profile discipline case. By coincidence — Studin's administrative leave in the Bennington case began exactly 10 years to the day as another discipline case involving him.
Studin made a splash Oct. 29, 2008, when he drove a super-charged unmarked State Police cruiser at 133 mph in a 65-mph zone on I-91 in Rockingham. In the process he passed then-Public Safety Commissioner Thomas Tremblay and his wife in their private vehicle.
Instead of charging Studin in criminal court, Vermont Attorney General William Sorrell's office gave the officer a pass and issued him a civil speeding ticket.
Studin was eventually assessed $1,036 in fine and fees, records show. The speed was determined by the in-cruiser video for the 2008 Dodge Charger normally reserved for the Southern Traffic Safety Unit.
Studin, who was assigned to the Southern Vermont Drug Task Force at the time, wanted to take the high-speed cruiser for a spin. State Police transferred him back into the uniform division as a road trooper on Jan. 4, 2009, and he faced other internal discipline, the department and union members said at the time. Those discipline records have never been made public.