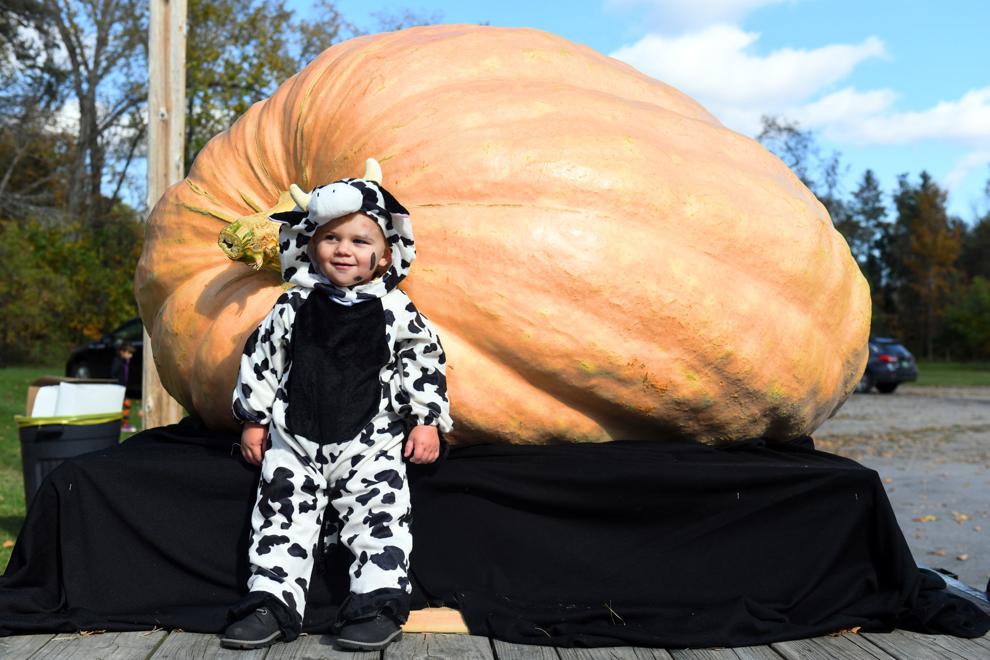 POULTNEY — The 10th annual Pumpkin Festival on Sunday, hosted by the Leap Frog Nursery School, had a special guest — Vermont's first 1-ton pumpkin.
For 15 years, Danny and Holly Boyce, of Benson, have been tipping scales all around New England.
This most recent weigh-in last month was at the oldest sanctioned weigh-in location at the Topsfield Fair in Massachusetts.
The Boyces' pumpkin weighed in at 2,017.5 pounds — the 16th largest in the world, though the record is always changing.
Children marveled at its presence.
"That's my favorite part," Danny Boyce said, "is when (the children) ask questions."
And ask they did, but the growing process isn't as easy to explain as just planting a seed.
First, you have to find one of these large seeds, which the Boyces scored from Howard Dill, of Nova Scotia.
Second, you have to dedicate a roughly 1,000-square-foot patch of your garden to plant — and the Boyces plant more than one. Third, you have to self pollinate to make sure the fruit will set.
When the fruit sets, the Boyces had to keep up with this pumpkin, which grew an average of 50 pounds a day — over 2 pounds per hour.
Next is transporting it. This year's orange monolith was larger than their truckbed could handle, so they've been towing it on a large trailer with a sign that reads "SIZE MATTERS."
Despite that statement, the Boyces are humble about their craft. Danny serves as the Vermont Giant Pumpkin Growers Association's president.
He hosts patch tours during the summer and an annual conference in Berlin next February. This year's conference will feature a speaker from the Yukon Peninsula to talk about soil.