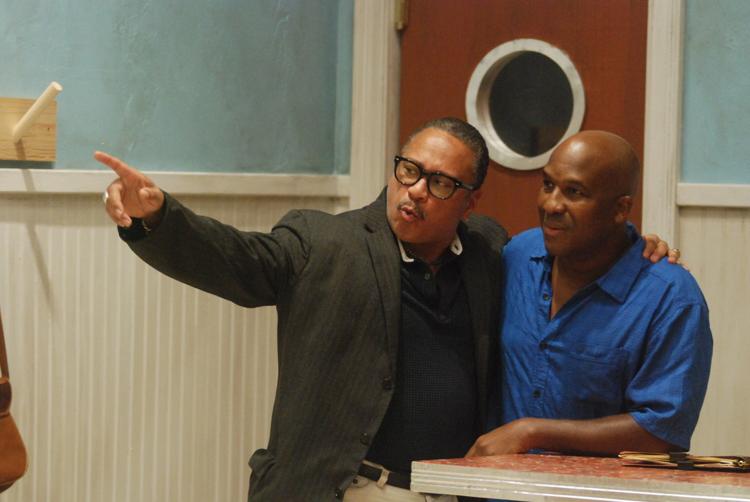 August Wilson's "Two Trains Running" portrays the imminent loss of a popular diner to urban development in a poor Pittsburgh community in 1969. It's the seventh in his 10-play "The Pittsburgh Cycle," each set in a different decade, portraying the gritty everyday lives of urban African Americans. It's plenty serious, but not always.
"Something we've been enjoying is how funny the play is," explains Reginald L. Douglas, who is directing the Weston Playhouse production. "It's actually a wonderfully funny, rich tapestry of characters. There are lots of laughs, lots of smiles we've been discovering, as well as the depth of emotions."
Weston Playhouse Theatre Company is presenting "Two Trains Running" Sept. 27-Oct. 21 at its new 100-seat Weston Playhouse at Walker Farm. This is Weston's fourth annual American Masters offering featuring plays by iconic American playwrights.
The play premiered at Yale Repertory Theatre in 1990, moving to Broadway in 1992 in a production starring Laurence Fishburne. Wilson's best-known work, "Fences," was seen at Weston in 2003, and was made into a film in 2016 directed by and starring Denzel Washington.
For Douglas, who is artistic producer of City Theatre in Pittsburgh, this is his first time at Weston Playhouse, his first time in Vermont, and his first time directing a Wilson play.
"So much of my thinking about theater-making is inspired by Mr. Wilson's career, and his essay, 'The Ground on Which I Stand,' is a big inspiration for me," Douglas said in an interview between rehearsals.
"One of the greatest testaments of all of Wilson's characters, and especially of 'Two Trains Running,' is the resilience of its characters. …," he said. "They smile as much as they cry. That's what makes them human, three-dimensional people looking to succeed, even in a country and a culture that says they shouldn't."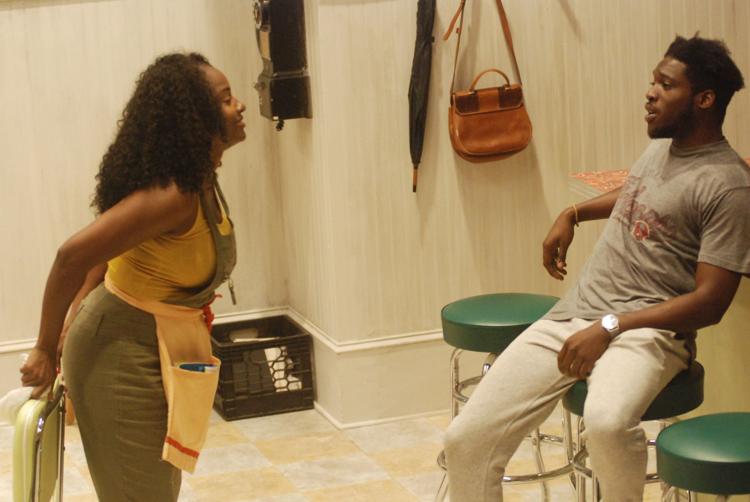 In "Two Trains Running," Douglas particularly enjoys how everyday the characters are.
"It's really a beautiful ensemble play about community," he said. "You meet all these characters who have their own role and their own connections to this diner. I love everyday people being uplifted to extraordinary circumstances."
Raphael Peacock is Memphis, owner of the endangered diner.
"He is a survivor who has redefined himself many times during the course of his life, and has now found a way to survive," Peacock said. "He has created a family around himself — and now he's trying to find a way to get back to where it is he belongs."
A key member of that "family" is Risa, played by Eboni Flowers, Memphis' only employee, and the play's sole woman.
"Interestingly, there's not a lot of information known about her," Flowers said. "We know that she has mutilated herself in some ways to deter the 'peacocks' of the world. She navigates with her walls up — for her, this is her safe haven."
Sterling, Bernard Gilbert, just out of the penitentiary, is that threat, though with something more.
"Sterling is rambunctious, an opportunist," Gilbert said. "I relate so much to Sterling. He's the most 'peacock.'"
The funeral director, West, played by Lawrence Evans, is the only wealthy character.
"Money makes West tick," Evans said. "After his wife died (20 years ago), he has this pursuit for economic prosperity, for making money."
Cary Hite is Wolf, who runs numbers, the other end of capitalism.
"Wolf is a street entrepreneur," Hite said. "He makes money in a variety of ways, but he is a loyal friend. He's looking for love, sometimes in the wrong places — but his heart's in the right place."
Holloway, Guiesseppe Jones, is a recent retiree.
"He has enormous faith in a 322-year-old woman and what she can do for each character in this play," Jones said. "And she turns out to change everyone's life, including his."
Hambone, played by Beethovan Oden, is the most unusual character in the play, repeating the same phrase constantly.
"He's the heart," Oden said. "Although limited in what I say, I say a lot."
This is likely the most uplifting of "The Pittsburgh Cycle," but it's a lot more.
"The play doesn't end in a happy, perfectly knit bow," Douglas said. "There are questions and ironies about life. One of the big questions Wilson is asking in the play is what is the cost of success — on one's soul, on one's community. I think that's a wonderfully complicated question to be asking right now."