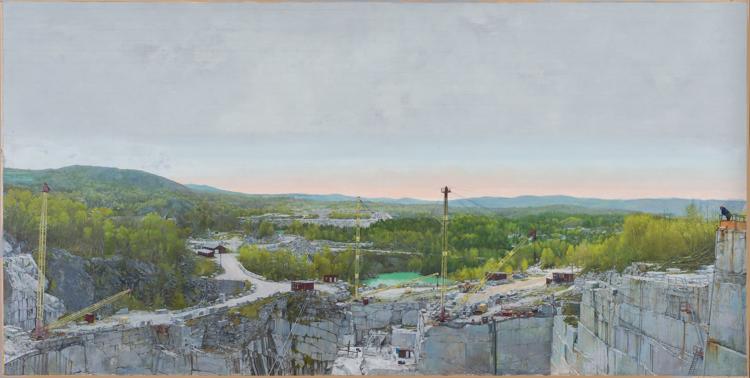 A storage facility with Parthenon-like proportions glows against a dark star-speckled sky in Linden Frederick's oil painting "Self Storage," from his "Night Life" series. A Holstein calf, number 235 on its yellow ear tag, peers out of the ground-floor door of a century-old weathered Orwell barn in Jim Westphalen's photograph "Calf Barn I." In "Citgo Rt. 7," a familiar gas station stands along the temporarily traffic-free road, diagonals of yellow-sheathed power line guy wires framing it.
"New England Now" opened at Murphy Gallery at Pizzagalli Center for Art and Education at Shelburne Museum this week. With large-scale paintings and photographs by 13 contemporary artists including five from Vermont, the show considers our region's evolving landscape. Curated by Carolyn Bauer and Tom Denenberg, It is the inaugural exhibition in a planned biennial series on the northeast. The show continues through Jan. 13. Artists' talks and other special events are scheduled through the next four months.
"New England Now" accompanies "Playing Cowboy" in the Colgate Gallery. All 39 buildings of the Shelburne Museum are open to Oct. 31. The Pizzagalli Center and a few others are open year round.
"New England has long played an outsized role in the national imagination, like the American West," said Denenberg, director of the Shelburne Museum, noting the region has also been "a proving ground for artists from the early 19th century to today."
"As a premier institution contributing to New England's artistic conversation, Shelburne Museum has a special responsibility to reflect on and nourish the region's creative culture," Denenberg said about the genesis of the show and series.
This inaugural "New England Now" show focuses on the contemporary landscape as shaped or touched by human engagement. Altoon Sulton's "Tractor and Ag-Bags, Groton, VT" egg tempera painting, for example, takes viewers to present day farming, inviting exploration of the relationship between the land's cultivation and machines and materials of that endeavor.
Several artists consider the historic landscape as it is today. Jacob Bond Hessler's "Wyeth's Windows" and Jim Westphalen's "Coal Shed I" are among the images that capture the beauty and character of aging and abandoned structures. Elke Morris' "Mill Towns" series of photographs of Lewiston, Maine includes images of iconic multi-storied multi-family wooden residences, built in the late 1800s and early 1900s for workers at burgeoning mills. Although that industry has moved on, the homes still stand and provide housing for new communities.
"There's a symbiotic relationship between the manmade and the natural environment," in many of the works, noted Bauer, assistant curator at the museum.
The exhibition is organized with four descriptive sections: "Urban Expansion," "Industrialization," "Rural Repose" and "New Neighborhoods."
Peter Lyons' oil painting "Marshland" of a geometrically sleek office building adjacent to young trees against a cool cloudless sky is among the works in "Urban Expansion." In his artist's statement, Lyons notes, "In 'Marshland' we may expect conflict between nature and man, but with empathetic design and materials, they resonate with great harmony."
Yvonne Jacquette's "Shopping Mall, Rockland ME II" and "MBNA (Credit Card Co.) Parking Lots I," oil paintings are seen from above, as though on board a flight nearing its landing. The lights in the MBNA parking lot illuminate the space around the building, while the complex is surrounded by the darkness of undeveloped land.
The "Industrialization" section includes Joseph McNamara's "Vermont (E.L. Smith Quarry)" looking from an overhead perspective at surrounding environment and the extraordinary manmade landscape of sculpted by granite cutting.
The exhibition offers a wonderful dialogue between its paintings and photographs throughout, with an especially nice touch in the "New Neighborhoods" section. Sam Morrow's paintings "IHOP – Exit 7" and "Development," both painted in a sepia palette, look at new development as it may be experienced from a moving car — a snapshot-type glimpse of the landscape. Morrow's new structures and patterns open an interesting connection to Elke Morris' "Mill Town" photographs, with their old buildings serving contemporary lives.
"Most of the pieces are large to monumental in scale. While the large size may be a reflection of the expansive natural wonder and awe of the subject matter of landscape, in effect it also creates an immersive viewing experience," Bauer said.