Sunday, January 19th, 2020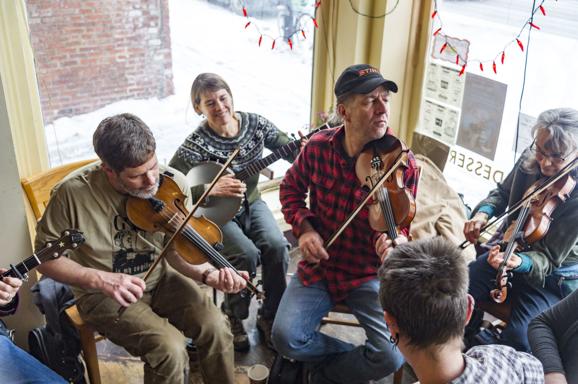 A winter festival, Montpelier's standout winter music weekend, celebrates a decade of musical entertainment Jan. 23-26 as the Spice on Snow… Read more
| | |
| --- | --- |
| | Although he was a disciple of the guru of the atonal, Arnold Schoenberg, Alban Berg's 1935 Violin Concerto is full of deeply beautiful and … Read more |
| | |
| --- | --- |
| | "King Lear" is one of William Shakespeare's greatest tragedies in that not only does it chronicle the downward spiral of a self-deceiving h… Read more |
| | |
| --- | --- |
| | Albert Einstein (1879-1955) is universally thought to be one of the greatest geniuses of all time, but what do we know of him other than E=… Read more |
| | |
| --- | --- |
| | Hands clutch the front of the wooden sled, scarf trails behind, legs wag in the air — the wide-eyed sledder in Mark Barry's "Warp Speed" is… Read more |
| | |
| --- | --- |
| | The small town of Brattleboro in southern Vermont is both home and host to all kinds of artists, and the annual Northern Roots Traditional … Read more |
| | |
| --- | --- |
| | After 15 successful years, the winter shows at Middlebury's Town Hall Theater have built a solid reputation due to the level of talent and … Read more |
| | |
| --- | --- |
| | Hip-hop, reggae, Americana and indie-folk are all on tap this week in the Burlington area. Here's a look at five acts that are sure to live… Read more |
| | |
| --- | --- |
| | HANOVER. N.H. – Hear the fascinating result of a 40-year collaboration when the Kronos Quartet performs the music of composer Terry Riley at 7:30 p.m. Thursday, Jan. 23, at the Hopkins Center for the Arts at Dartmouth College. Read more |
| | |
| --- | --- |
| | Previewing upcoming arts and entertainment events throughout the region. Read more |
| | |
| --- | --- |
| | Previewing upcoming arts and entertainment events throughout the region. Read more |
| | |
| --- | --- |
| | Comprehensive listings of public art exhibits, galleries and museums throughout the region. Read more |
George Nostrand ​ | ​ Updated

Jim Lowe talks about upcoming stories, including previews on 10th annual Spice on Snow, the Northern Roots festival in Brattleboro and the … Read more
Add your event to our print and online calendars
We list thousands of events online and in print every year - and you can get yours listed by sending it to us through this form. Click here to submit your event - we'll review it and post it online, and may select it to run in our print publications as well.
Check out more newsletters or signup
Manage your newsletter lists or signup now.