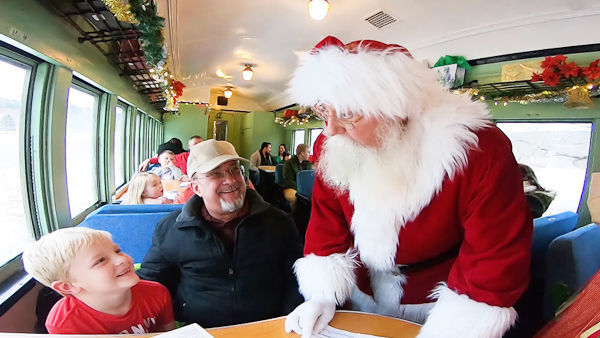 Don Heath, Chester
RH: How long you been waiting on this line to get onto the Santa Train?
DH: We've been on here about 15 minutes, 10 minutes maybe.
RH: That's not bad at all.
DH: No, it isn't.
RH: Tell me something, Don — What's the best part about the holiday season for you?
DH: I love — actually, I love the cold weather. I love the snow. And I love how people share.
RH: What is it about this time of year that makes people do that because they sure seem to.
DH: They sure do. It's a wonderful time of year, and there's nothing like it.
Lauren Wilson, Hudson Falls, N.Y.
I love seeing my son smile. I'm just excited by how happy he is when this time of year comes around.
RH: Have you ever ridden this Santa Train before?
LW: Long time ago. Just a lot of fun. I had my niece with me, and she was really young, so it's just the excitement of the kids.
S. Claus, N. Pole
RH: Hey, boss, how's it going?
SC: It's a long day.
RH: It's almost over for you.
SC: Almost. As I get farther down the train, it just seems like it gets longer and longer.
RH: Well, you're just starting on this one.
SC: I know!
Steve Delisle, Rutland
Spending time with the kids. And opening those presents.
RH: You getting excited about Christmas Day?
SD: Yes, I am.
Jermar Terry, Troy, N.Y.
I guess having my daughter around. Watching her open up Christmas presents. She's 5 now.
RH: You like being a dad?
JT: Yeah, of course! Every day!
Mark DiPasquale, Warrensburg, N.Y.
Time spent with family and friends. I like to cook. My specialty is everything, to be honest.
Evelyn Santoro, Austerlitz, N.Y.
Baking. Cookies, lots of cookies. Everybody loves my cookies — peanut butter cookies, chocolate chip, Jewish cookies, butterhorns.
Michael Morales, Rutland
It's just wonderful being able to spend so much time with all our neighbors. It's exciting to see this.
RH: Was it a thrill to meet Santa Claus?
MM: Yes, it was.
Ruby, elf, North Pole
The giving to people.
RH: Do you like getting sometimes?
R: Yeah, but I'd rather give to others.
RH: So giving is better than receiving.
R: That's absolutely right.
David Hoisington, Belmont
Watching the kids open up the Christmas packages.
RH: Well, it's like Ruby the elf says, it's better to give than to receive. Do you think that's true?
DH: Yes!
Bling, elf, N. Pole
RH: Tell me something, Bling, what did you wish for this Christmas?
Bling: More bling is always good. My sweater, take a look, it lights up.
RH: That's beautiful. I want one of those. But really — what do you want for Christmas?
Bling: Just for my family to be together for Christmas. They're all scattered around.
RH: It's good to see you. Merry Christmas!
Bling: Thank you. Merry Christmas to you.
Herb Kuendig, Pittsfield
Based on my size, the food. I just make a wonderful meal for everybody. Merry Christmas to you and to everyone else.
Kooky Cookie, elf, N. Pole
I love the Santa Train because I love handing out cookies, and I like to hand out milk, and I love it when Santa comes in because I'm so excited to see Santa because he's, like, the best!
RH: Merry Christmas to you, Cookie!
KC: Merry Christmas to you, too! And to everybody else in the whole world!
Randy, elf, N. Pole
RH: C'mon, even elves want to get a Christmas present of some kind, Randy. What do you want?
Randy: I want all the kids to be happy and smiling, and I want them to get all their perfect Christmas gifts for Christmas, that is the best gift for me. Because working on this train is the best gift that I could ever ask for, seeing these kids smile. I think this is my fourth or fifth year on this train. I just love doing it. Every year, I've got to do it.
RH: Merry Christmas, Randy!
Randy: Merry Christmas to you, too!
RH: And Merry Christmas to all the elves.
Karen Baer, Warrensburg, N.Y.
Being with family and enjoying the lights and the decorations.
RH: Do you cook?
KB: Yes.
RH: Do you cook a lot?
KB: Yes.
RH: Merry Christmas to you —
KB: You, too.
RH: — and thanks for coming back to Rutland.
Hope Harr, Shrewsbury
It's the sense of community coming together. Just everyone helping each other out and spreading cheer to one another. I think it makes you appreciate what you have and what you're thankful for.
Berry Christmas, elf, N. Pole
I love cranberries, I love holly berries.
RH: Raspberries?
BC: Raspberries, strawberries, all of them.
RH: Blueberries?
BC: Yeah.
RH: Blackberries?
BC: Berry Christmas. Sometimes I think they're calling my name when they say "merry Christmas."
RH: Well, a berry merry Christmas to you.
BC: Thank you.
RH: What's your favorite part about the holiday season?
BC: Making children happy! This train is full of happy children today.
RH: This train seems to make children happy and it's not just the sugar in the cookies.
BC: Oh, Santa spends his time with each one of the children, and it's unlike anywhere else. It really is magical!
Visit bit.ly/1008SantaTrain for this week's Street Talk video.